There's a lot to remember and do to prepare for parent teacher conferences! This post will Although this post will focus on share some helpful parent teacher conference tips for new teachers, but they are helpful for all teachers who are looking to improve their systems. Check them out below!
5 Parent Teacher Conference Tips
Below are 5 parent teacher conference tips for teachers.
1. Create a Schedule
The first of the parent teacher conference tips for new teachers on the list is to create a schedule. While you want to provide each family with ample time to discuss their child's progress, there are many families who will want to take a very long time to meet with you. Plan ahead by providing a block of time that will allow you to discuss each student in detail, but will also provide you with a natural ending time.
This can be accomplished by scheduling your conferences immediately before school so that the meeting will need to end when students arrive or by scheduling back-to-back conferences. I avoid the latter because some parents will keep talking even if they know others are waiting to come in and, ultimately, it causes a major back-up and is not fair to the others.
Instead, I personally like to schedule one per day and do so before school. I feel that this not only creates a natural ending time, but also let's me really focus on that one child and be thorough in my planning. Consider creating a schedule using an online tool like Sign Up Genius!
2. Send Home a Question Sheet Ahead of Time
As the conference time approaches, send home a question sheet for the parents to fill out. Ask what they view as their child's strengths and weaknesses. Have them list areas of concern and specific questions they would like answered. This will be so helpful in planning for the conference and creating a focused agenda to make the time as productive as possible. It also serves as a reminder for them regarding the date and time.
3. Create a Slideshow
The third on the list of parent teacher conference tips for new teachers is to consider putting together a slide show of pictures of the child in action. I created a quick 10-15 picture slideshow of each child to open the meeting. I didn't always have a smart board to display it on so I would simply open my laptop and play it on there. It really takes only minutes to put together, but is such an amazing way to start the meeting. It shows that you care about their child as an individual.
4. Pull Work Samples to Share
I love sharing writing samples with students' families! Parents love to see what their children are thinking about and writing about. It really is a window into their brains. Consider pulling a sample from the first week of school and a more recent sample to show the growth that the student has already made.
5. Download this Parent-Teacher Conference Resource
This parent-teacher conference resource is available for purchase in my Clutter-Free Classroom Teachers Pay Teachers store. It includes tons of tips and ideas for planning and executing a successful conference with students' families. Specifically, it includes a conference invitation, parent survey to send home beforehand, a sign-up sheet, conference agenda pages, conferencing notes template, thank you note stationary ,and a welcome to conferences sign.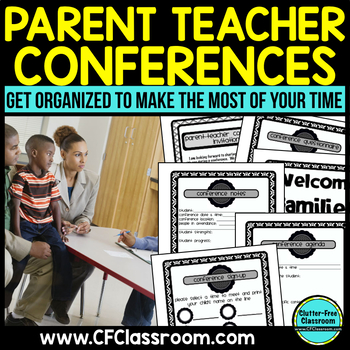 In closing, we hope you found these parent teacher conference tips for new teachers helpful! If you did, then you may also be interested in these posts: