These printable and digital second grade math resources will save you a ton of time looking for quality, standards-based activities for your students. You have the option to purchase these resources individually using the links below or you can purchase my Elementary Math Resources Collection, which includes all of the resources listed below for all the grade levels and much much more. Learn more about the following 10 second grade resources below:
Word problems
Math journal
Open-ended problems
Number of the day
Math vocabulary resources
Math spiral review
Sorting activities
Printable math games
Math quick checks
Progress monitoring assessments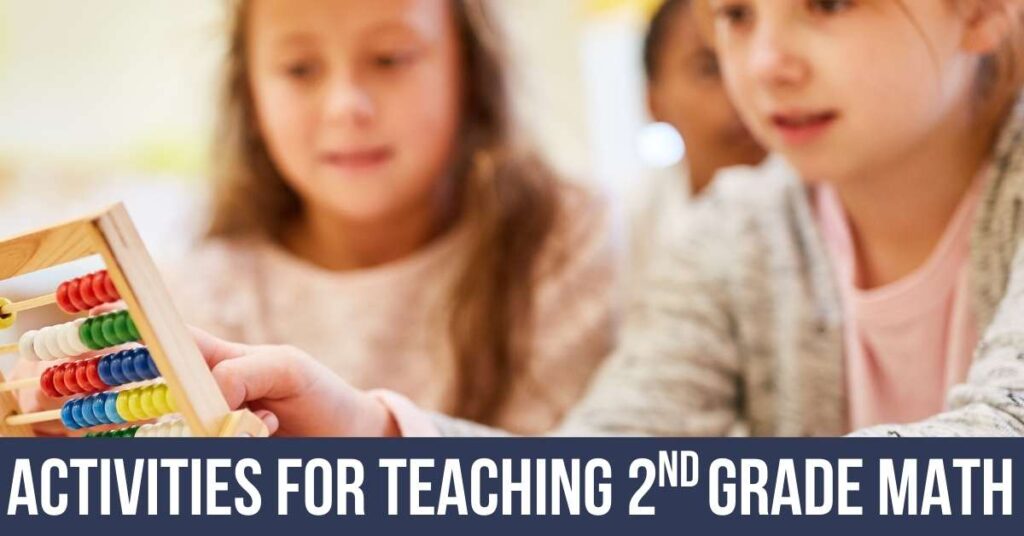 Second Grade Math Word Problems
Word problems are covered in the second grade Common Core math standards. According to the standards, second graders need to be able to use addition and subtraction within 100 to solve one- and two-step word problems.
Your students will confidently know how to solve word problems and be able to identify the limitations of using word problem keywords as a stand-alone strategy through daily word problem practice opportunities that this resource provides. This second grade word problem resource has a seasonal theme correlated with each month: January, February, March, April, May, June, August, September, October, November, and December.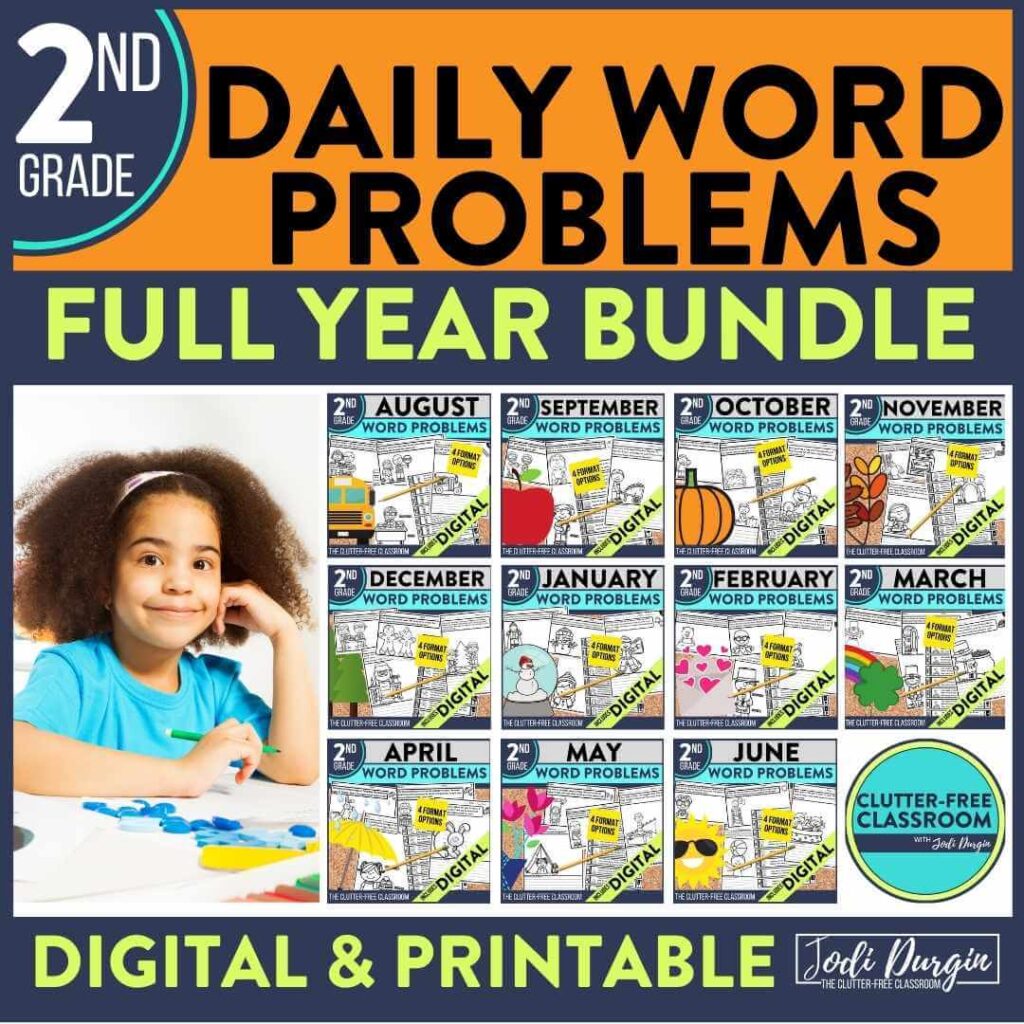 BUY THE MATH WORD PROBLEM BUNDLE or GET ACCESS TO ALL OUR MATH RESOURCES!
Second Grade Math Journal
Math journals are a great way to encourage elementary students to make sense of math concepts, think critically, make connections, explain thinking, communicate ideas, practice literacy skills, self-assess, and reflect on learning. This math journal resource includes 170+ prompts offered in both printable and digital formats.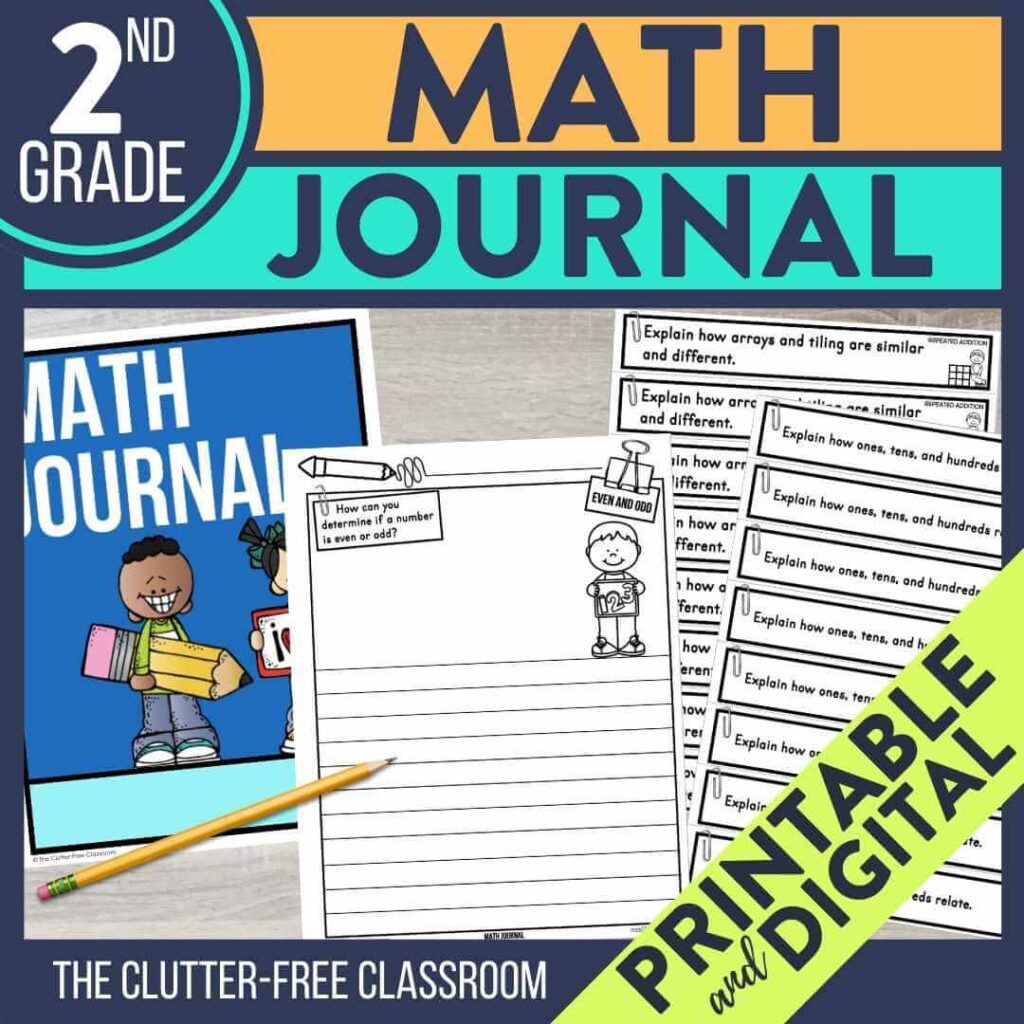 BUY THE MATH JOURNALS or GET ACCESS TO ALL OUR MATH RESOURCES!
Second Grade Open-Ended Math Problems
Open ended math problems, also known as open ended math questions, are a great tool for helping elementary students grow into true mathematicians who use diverse problem solving strategies to explore mathematical situations where there isn't necessarily one "right" answer. This practice equips them with the critical thinking skills they need to solve real world problems. This resource includes 180+ Common Core aligned open-ended prompts to help your students get the daily practice they need.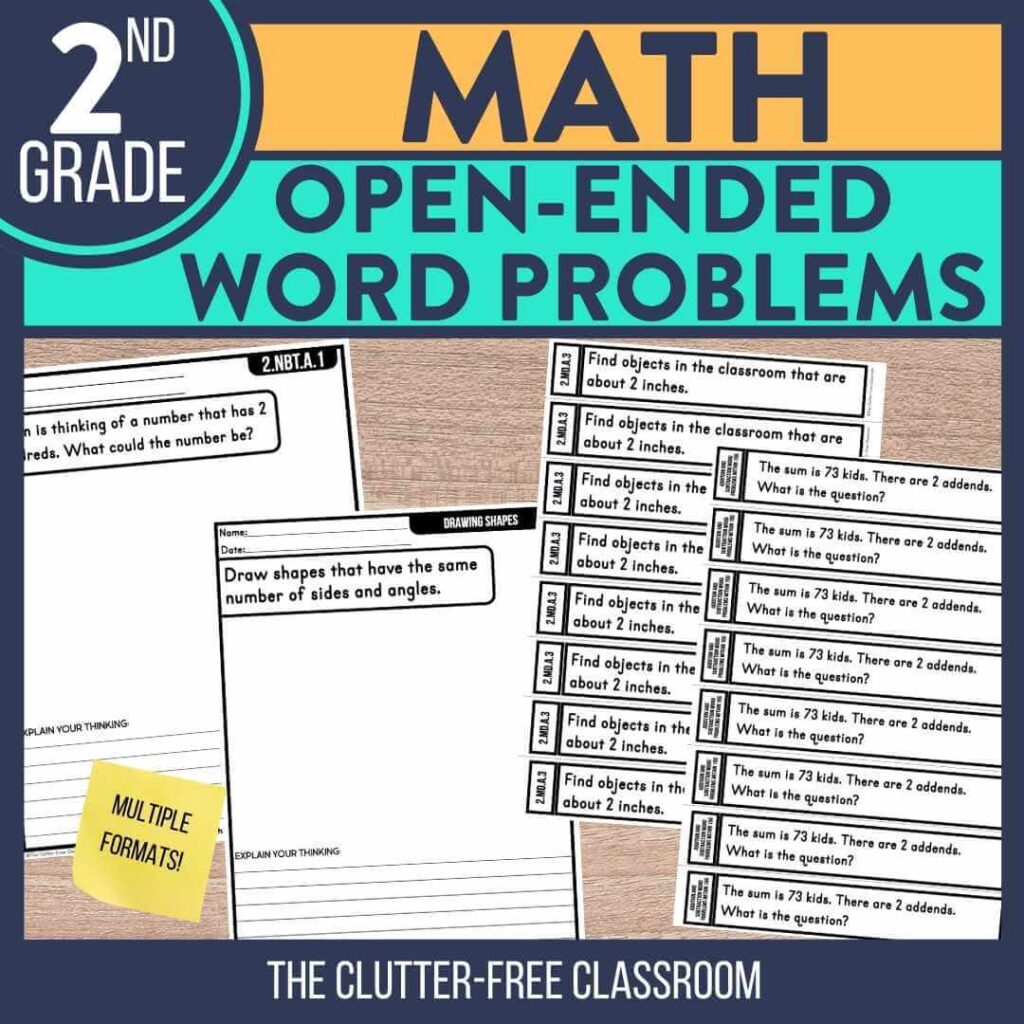 BUY THE OPEN-ENDED MATH PROBLEMS or GET ACCESS TO ALL OUR MATH RESOURCES!
Second Grade Number of the Day Activities
A number of the day activity is a great idea for how to start an elementary math lesson. These activities offer students daily practice of basic number sense skills that are essential for second grade and beyond and help build math confidence. This resource is both printable and digital.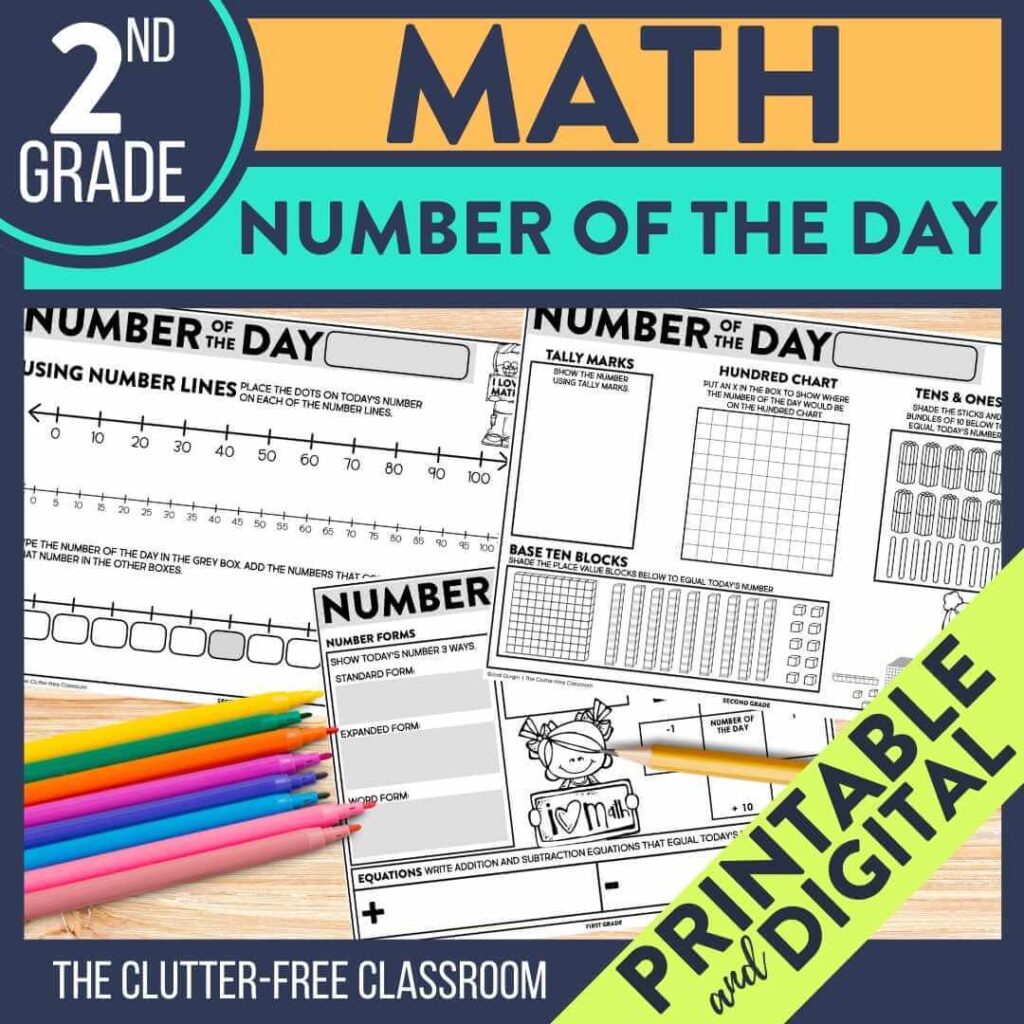 BUY THE NUMBER OF THE DAY ACTIVITIES or GET ACCESS TO ALL OUR MATH RESOURCES!
Second Grade Math Vocabulary Resources
In many ways, learning math is like learning a foreign language. In order to be successful in math, students must become fluent with the vocabulary. This second grade vocabulary packet includes tons of printable and digital resources to help you support your students in learning your grade level's math language and being comfortable enough to use it in academic conversations. Elementary math vocabulary instruction is a large component of best practice math teaching.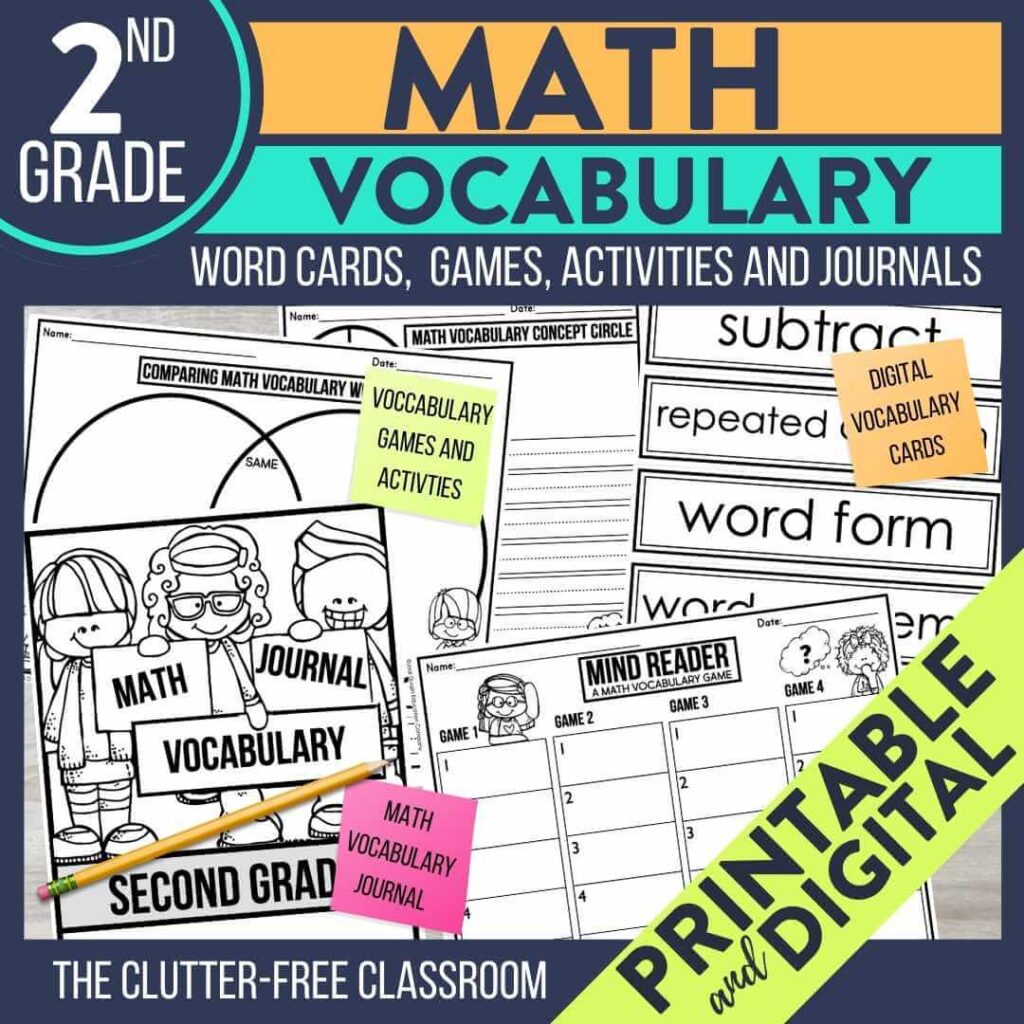 BUY THE MATH VOCABULARY RESOURCES or GET ACCESS TO ALL OUR MATH RESOURCES!
Second Grade Math Spiral Review
Spiral review in math is the idea that after introducing and explicitly teaching a foundational concept or skill, students continue to practice it regularly throughout the school year in order to maintain what they have learned. It is an integral part of every second grade classroom. Using them consistently reduces the amount of time you need to spend on test prep, helps reinforce or re-teach foundational skills, and inspires math confidence amongst students.
This Common Core-aligned second grade math spiral review bundle includes 250 print and go assessment pages and 250 Google forms, so your students can access the resources digitally and in hard copy. Each page follows a consistent ten-question template, which means this resource includes 2,500 problems!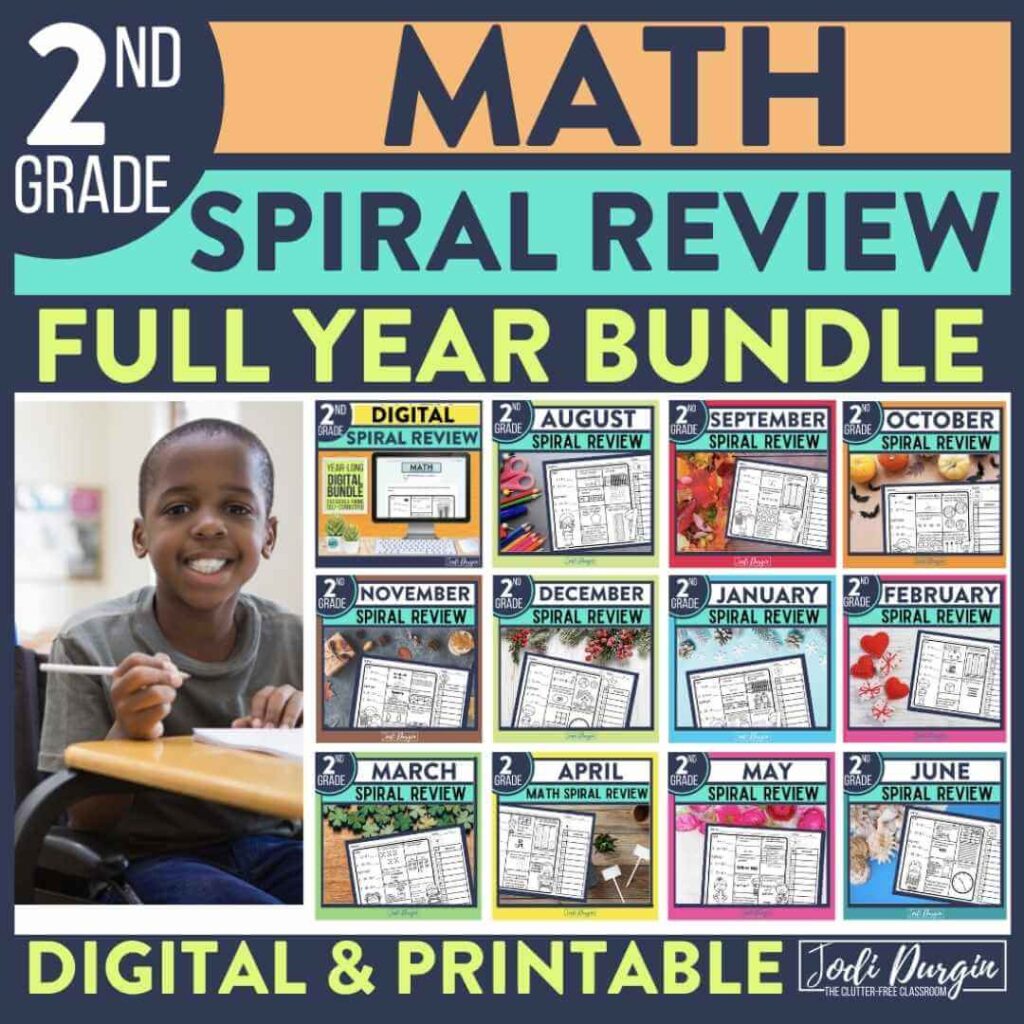 BUY THE MATH SPIRAL REVIEW BUNDLE or GET ACCESS TO ALL OUR MATH RESOURCES!
Second Grade Math Sorting Activities
Math sorting activities are a very powerful instructional tool that can be used as a way to introduce, reinforce, or assess a second grade concept. A great way to implement sorting in your second grade classroom is through math concept sorts. These second grade math sorting activities are both printable and digital and include closed sorts and open sorts for every Common Core standard.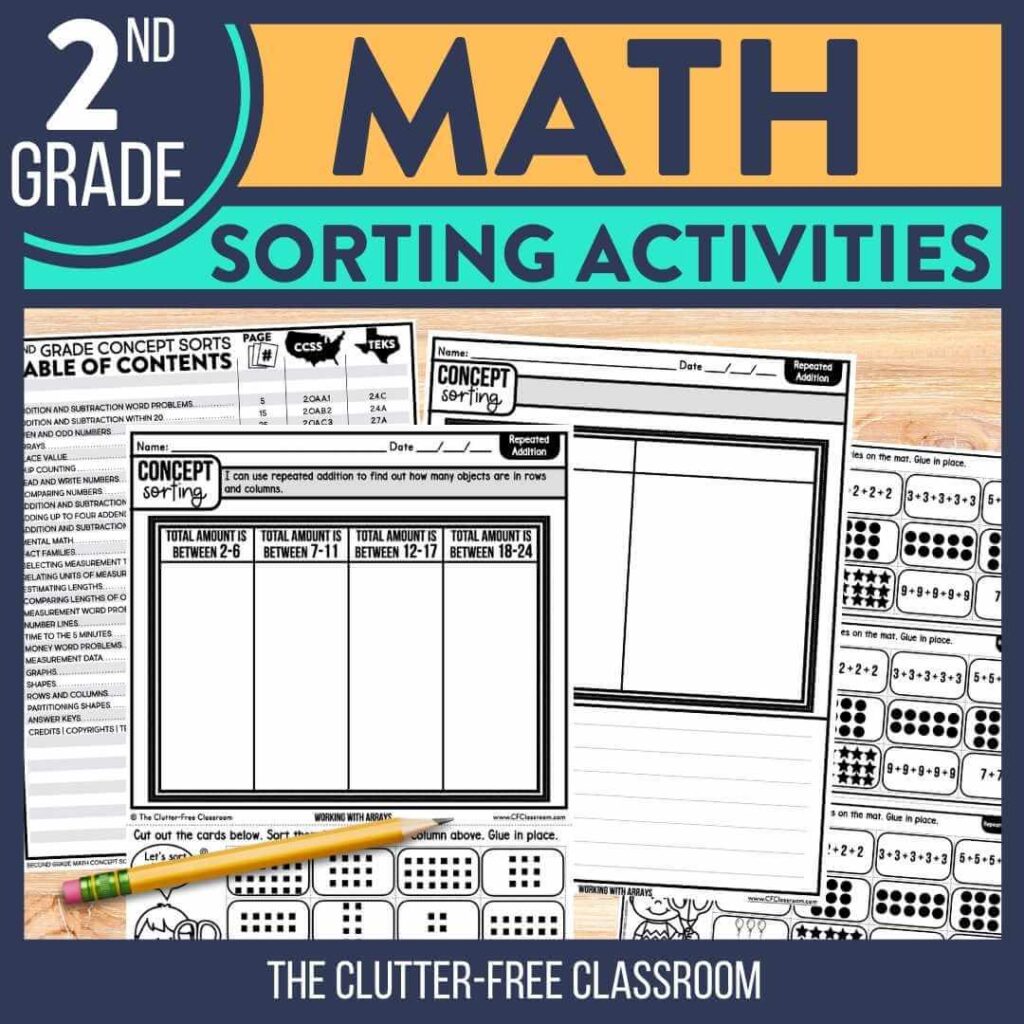 BUY THE MATH SORTING ACTIVITIES or GET ACCESS TO ALL OUR MATH RESOURCES!
Second Grade Math Games
Math games serve as great math stations, homework assignments, test prep and more. They are a fun and engaging way for second graders to practice previously-taught skills to reinforce their learning. This math resource includes 160 printable math games so you'll be covered for the full school year!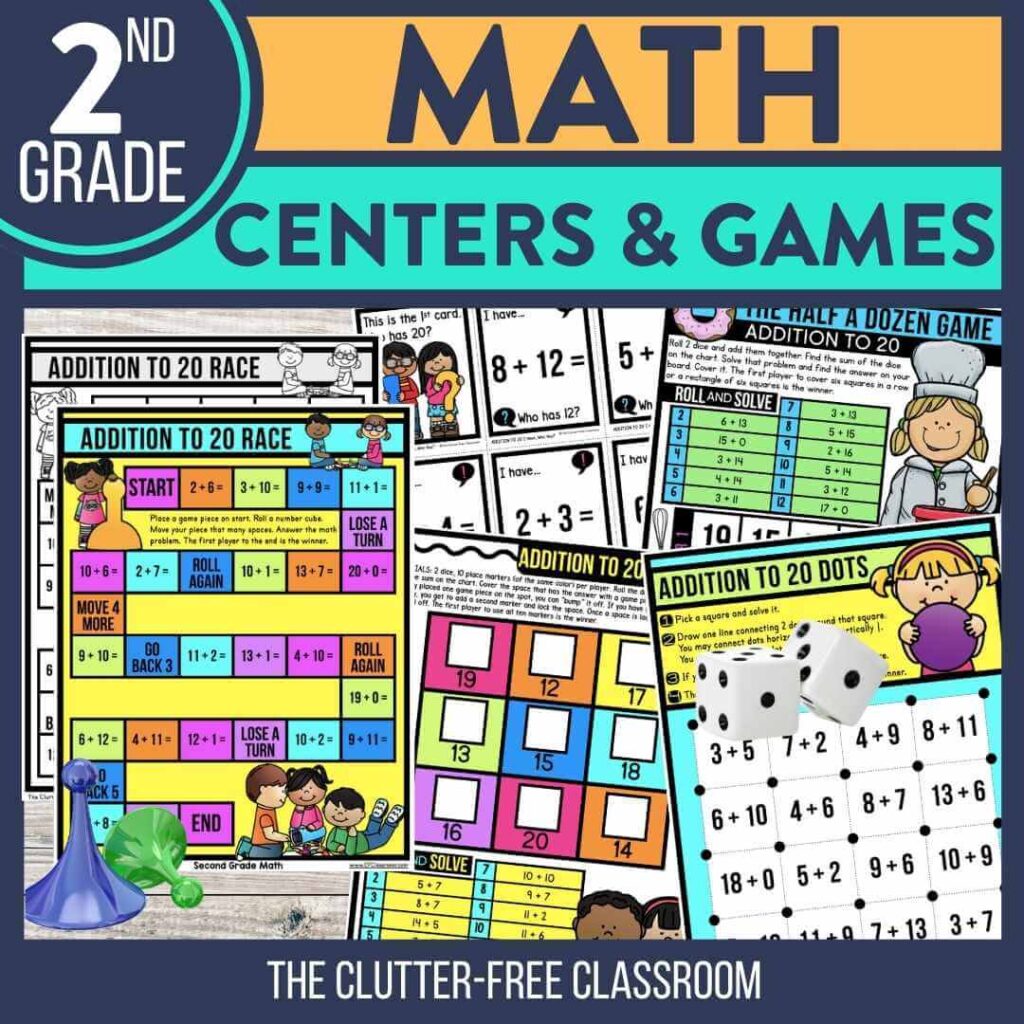 BUY THE PRINTABLE MATH GAMES or GET ACCESS TO ALL OUR MATH RESOURCES!
Second Grade Math Quick Checks
These second grade Common Core-aligned math quick check assessments can help you quickly check for understanding and identify students who require intervention, so you can provide appropriate data-driven instruction and remediation. A great way to implement them in your classroom is as exit tickets.
There is a three-question assessment for each Common Core math standard. This resource comes with an answer key and data tracking sheets and includes both a printable and digital version.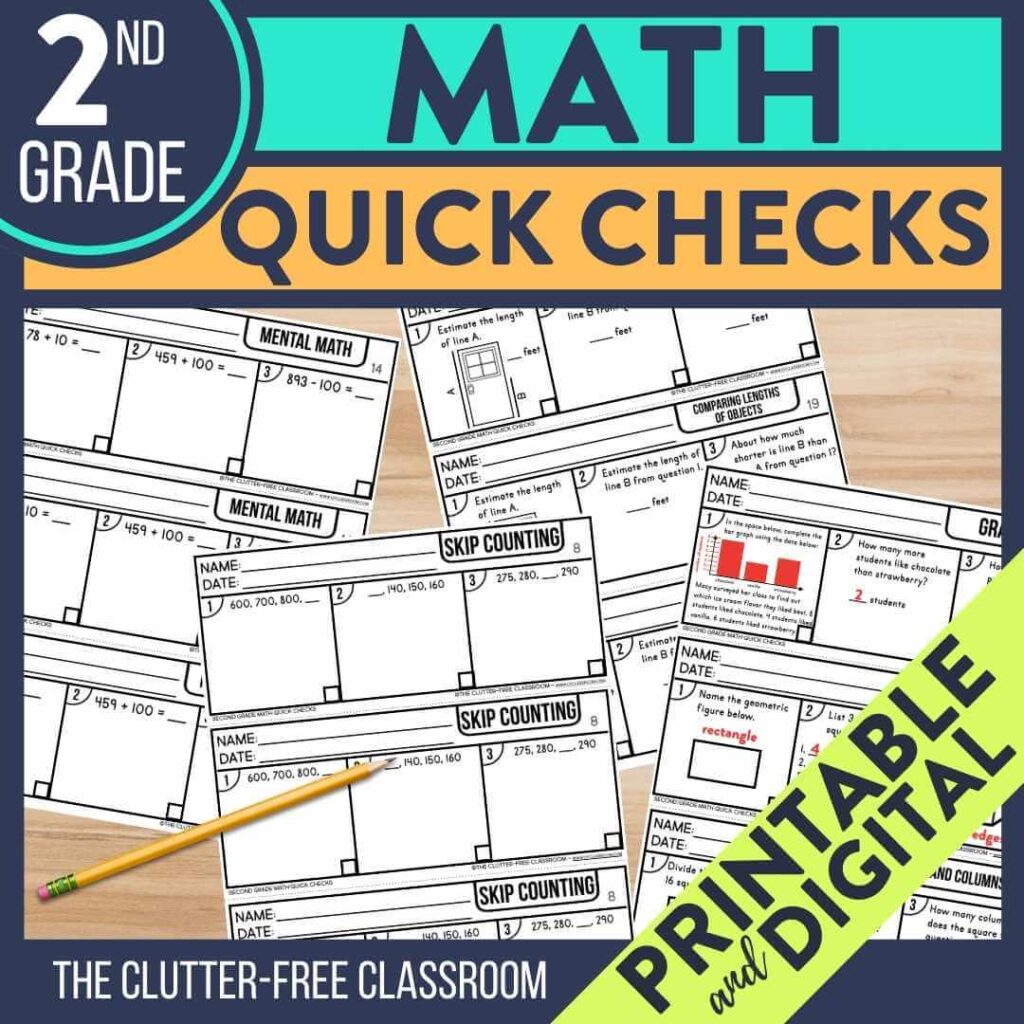 BUY THE MATH QUICK CHECKS or GET ACCESS TO ALL OUR MATH RESOURCES!
Second Grade Math Assessments
These second grade Common Core-aligned math assessments are a valuable formative assessment tool that you can share with families at parent teacher conferences. They are great for progress monitoring, providing data-driven RTI instruction, and collecting report card data.
There are three assessments for each Common Core standard, so you can use them to monitor student progress throughout the school year. Each assessment has ten questions, has an answer key, and is available in printable and digital format. Additionally, this resource includes a student data notebook, teacher grade book and teacher planning pages.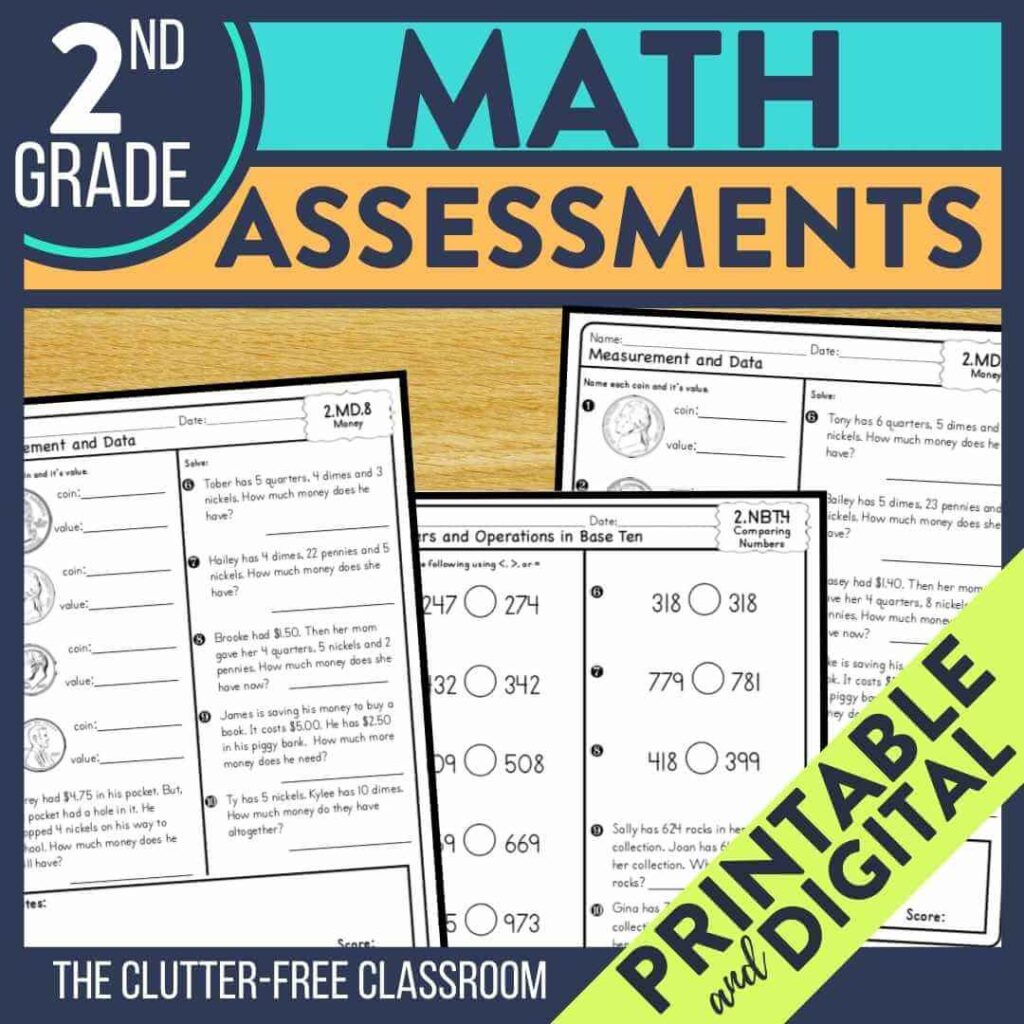 BUY THE MATH ASSESSMENTS or GET ACCESS TO ALL OUR MATH RESOURCES!
Math Resources for 1st-5th Grade Teachers
If you need printable and digital math resources for your classroom, then check out my time and money-saving math collections below!
Elementary Math Resource Collection
The Elementary Math Resource Collection is a HUGE library of thousands of standards-based math resources for 1st-5th grade. Becoming a member will give you access to ALL 5 grade levels. This is helpful for differentiation and if your teaching assignment changes to a new grade level in the future. This collection will save you time, give you access to an abundance of resources, and increase student engagement!