Teachers don't make nearly enough money. We all wish we could change that with a magic wand, but it is the reality that we live in. As a result, we need to get creative on how to make extra money to support ourselves and our families. Are you active, crafty, organized, social, techy, a good writer, or have a car? If so, read below to gather ideas on how teachers can make more money.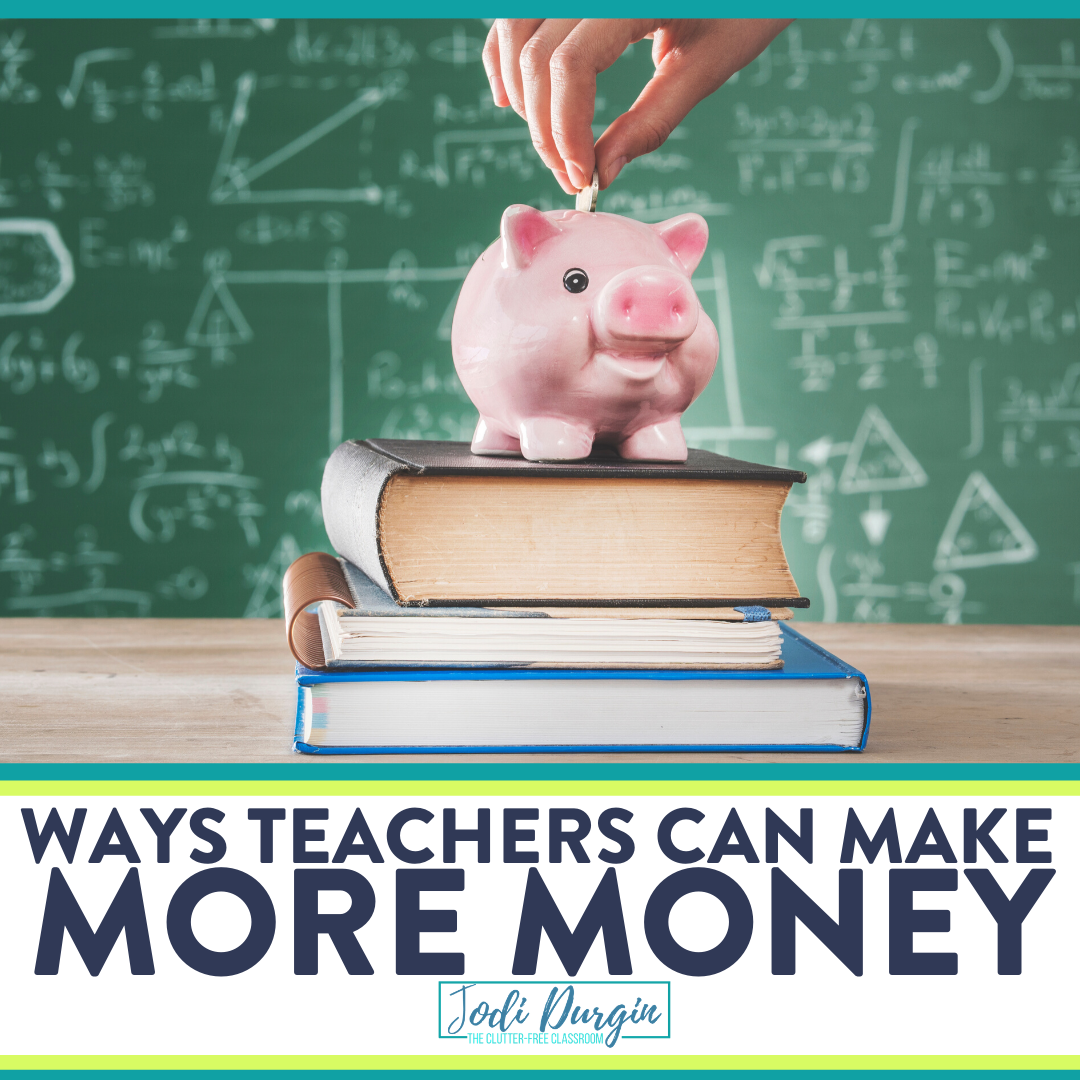 5 Ways Teachers Can Make More Money
Below are 5 ways teachers can make more money and live more comfortably as a result.
1. Invest in Higher Education Opportunities
Many school districts incentive teachers to continue their education by not only reimbursing them fully or partially for pursuing a masters degree or taking graduate courses, but also offer raises. This is a great opportunity to deepen your understanding in an area that you are passionate about, while also making more money in the future. That's a double win!
2. Get a Side Job
The second idea on this list of ways teachers can make more money is to get a side job. A side job, which is also known as a side hustle, is a great way to bring in extra income. Below are more than 30 side jobs for teachers that you can choose from or get inspiration from.
Side Jobs for Teachers who are Active
Become a pet sitter or dog walker
Coach a local sports team (e.g. U12 boys travel soccer team or your school's JV girls lacrosse team)
Get certified in a fitness speciality
Referee or umpire local games
Work for a landscaping company in the summer
Side Jobs for Teachers who are Crafty
Open an Etsy shop
Refurbish and sell old furniture
Sell handmade crafts at local craft fairs
Side Jobs for Teachers who are Organized
Become a wedding/event planner
Start an organizational business
Start or join a housecleaning business as a house cleaner
Side Jobs for Teachers who are Really Social
Be a camp instructor, counselor, or director in the summer months
Become a bartender or waitress at a local restaurant
Host a professional development workshop
Host virtual or in-person parties for a business (e.g. Usborne Books and Pampered Chef)
Nanny in the summer or babysit during the weekend
Serve as a life coach
Serve as a local tour guide (e.g. history tour)
Sign up for a focus group
Teach at a community college or undergraduate college as an adjunct professor
Try out a temp agency
Tutor after school
Work local special events and concerts
Side Jobs for Teachers who are Techy
Edit for Teachers Pay Teachers sellers
Become a freelance bookkeeper
Complete online surveys
Open an Etsy shop
Sell resources you create for your classroom on Teachers Pay Teachers
Sell stuff you don't need
Serve as a virtual assistant for a Teachers Pay Teachers seller
Start a blog about something you are really interested in
Start a social media business
Try VIPKID or another online teaching company
Share affiliate links offered after taking an online course
Side Jobs for Teachers who are Good Writers
Start a blog
Try out freelance editing
Write for education websites as a freelance writer (e.g. WeAreTeachers, School Leaders Now, and Bored Teachers)
Side Jobs for Teachers who have a Car
Become a delivery driver
Drive for Uber or Lyft
3. Inquire about Ways to Earn More Income through your School
The third way teachers can make more money is to explore extra opportunities your school offers. Many school districts offer stipends for a wide range of things. Some examples are serving as the data manager for your PLC, hosting a book study for your colleagues, serving on a district committee, and coaching a sport. Reach out to colleagues in your building to explore what options are available.
4. Transfer to a Different School District
It's amazing to see how a teacher who works one town over with the same amount of experience and education can make substantially more than a teacher a few miles down the road. Public schools often post their teacher salary grid online on their website. Explore what nearby districts are paying and see how it compares to your current situation.
5. Change Careers
If none of the options above suit you, then you could consider changing your career path. If this is the case for you, be sure to check out this post about what other jobs teachers can do.
In closing, I hope this information about how teachers can make more money was helpful!