Teaching is HARD. Long hours. Lack of resources and support. Inadequate salary. Stress. There are so many things working against you when all you are trying to do is help your students become kind and caring people who have the knowledge and skills to make the world a better place. It is hard not to get burnt out in the process. Teacher friend, I want you to know you are doing incredibly important work. You are valued. You are appreciated. Your students depend on you each and every school day. You are making a difference. I know you don't hear that enough.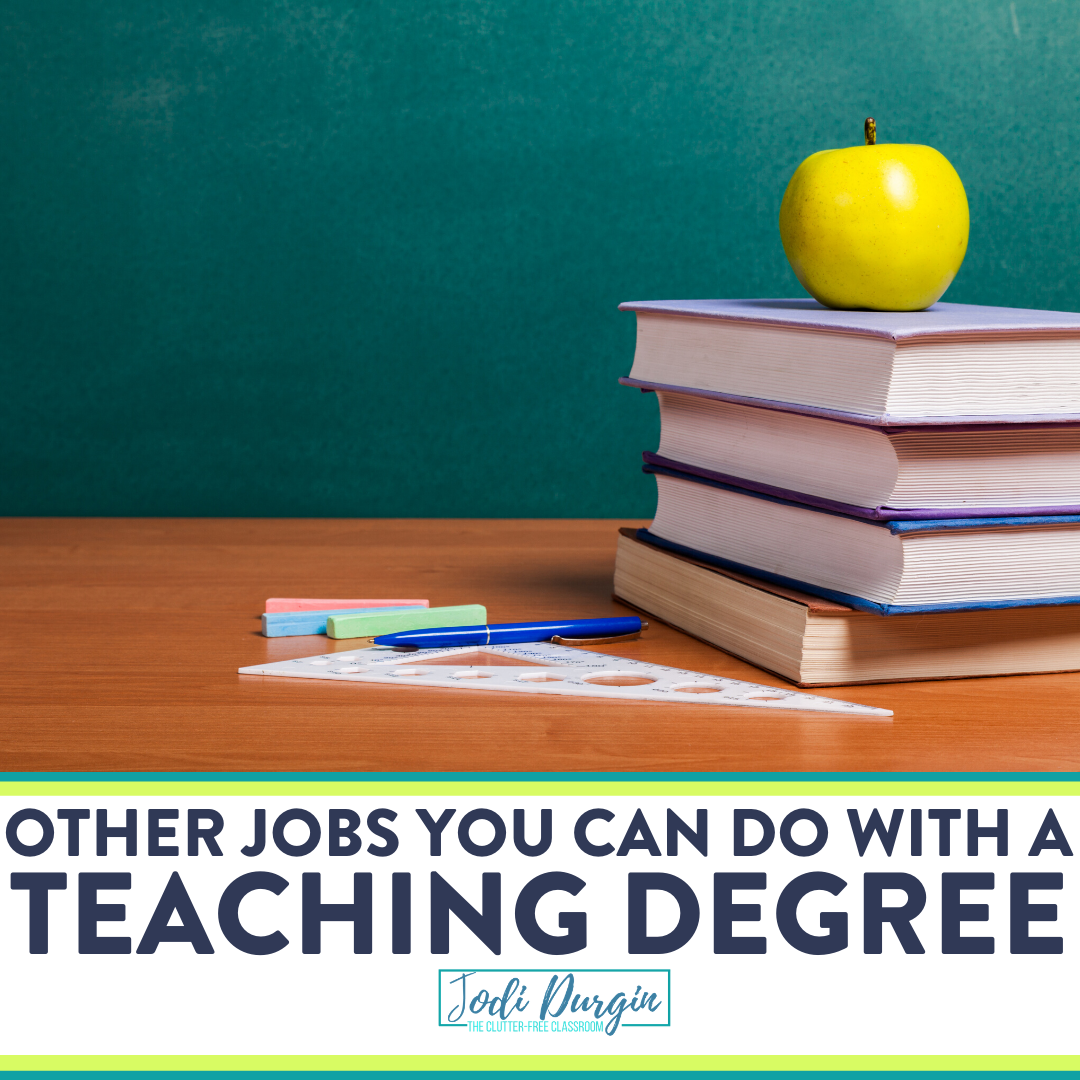 This blog post will…
explain the reasons why teachers leave their teaching job.
define work life balance and explain why it is important.
suggest questions to reflect on to help you determine if you should leave your teaching job.
offer other ways to utilize a teaching degree.
provide 10 steps to take before resigning from your current teaching position.
Why are teachers leaving teaching?
Increasing demands from administrators and local/state government
High pressure and stress from Increased data collection and standardized testing
Low appreciation and lack of support from administrators and students' parents
Lack of resources due to inadequate funding
Long hours due to ever changing and increasing initiatives and expectations
Growing student needs
Inadequate salary, which often leads to side jobs
Overwhelmed by government and district mandates
Better career opportunities elsewhere
Personal reasons (e.g. relocating for spouse's job)
Desire for work life balance
What is work life balance and why is it important?
Work life balance is the idea that people require time devoted to their professional life and time devoted to their personal life. Work life balance is important because it prevents burnout, improves mental and physical health, and increases productivity.
How do I find a work life balance?
Finding a work life balance is hard especially as a teacher. Even though it is incredibly difficult, it is essential to work towards it because of the effects it has on your health and well being. Check out my blog posts Avoiding Teacher Burnout and Teacher Burnout: Signs, Symptoms and Tips for Preventing it to get tips on how to find a work life balance
What are strategies I can use to destress?
Finding effective ways to de-stress is critical as a classroom teacher. Some people find that yoga works from them, while others find kickboxing to be an effective strategy. Curl up with a good book on your couch or sign up for an art lesson with friends. There are so many different things you can do to help you relax and improve your mental and physical health. You need to find what works best for you! Grab some other de-stressing tips from my blog post Teacher Relaxation Ideas to Make it through the Year.
Is leaving teaching a good idea?
Determining if leaving your current teaching job is the best option for you is a very personal decision. Here are some questions to consider:
Why am I unhappy?
Could this feeling change next year?
Will this feeling change if I change roles within the school? Within the field?
How long have I been unhappy?
What would I rather be doing?
Do I have a plan on how to achieve this?
Do I have any financial restrictions that may prevent me from leaving my current job?
What time of the year is it? Can I wait until the end of the school year?
What do my closest colleagues, family, and friends think you should do?
What steps could I take to improve my current situation?
If you are 100% sure that leaving the teaching profession is the right choice for you, consider the potential jobs/careers below and follow the steps on how to prepare for the transition.
What can a teaching degree be used for?
A teaching degree is valuable and equips you with a highly desirable skill set. Teachers are effective presenters, collaborators, instructors, leaders, organizers, and multitaskers.
If you would like to stay in a school setting, consider transitioning into one of the positions below.
Special Education case manager
Behavior specialist
School librarian
Guidance counselor
School administrator
Instructional coordinator (e.g. ELA, math, science, social studies, and Title One)
Content area specialist (e.g. reading and math)
Technology integration specialist
Interventionist (e.g. reading and math)
Title One tutor
Paraeducator or teacher's aid
Substitute teacher
If you would like to stay in the Education field but not necessarily in a public school setting, look into one of the positions below.
Museum educator
Education policy researcher
Standardized test developer
Education product and supply company associate
Sales representative for a textbook company
Content developer
Educational consultant
Curriculum specialist
Grant writer for non-profit
Department of Education employee
Private school teacher
Online teacher (e.g. VIPKID)
After-school program teacher
Admissions counselor
If you would like to get out of the Education field, check out one of these positions.
Youth activities director
Event/wedding planner
Real estate agent
Personal fitness trainer
Marketing associate
Restaurant manager
Store manager
Paralegal
Human resource representative
Corporate trainer
Technical writer
Publishing writer
Publishing editor
Entrepreneur
10 Steps to Take Before Resigning from Your Current Teaching Position
Reflect on the questions above. If you think resigning from your current role is the best choice for you, then continue to the next step.
Take the personality test at 16Personalities.com to learn more about yourself. Use the information from the assessment to explore your strengths, weaknesses, ideal career paths, and workplace habits. Take notes on these areas.
Google "jobs for (insert your personality type)." For example, if you found that you were a consul, you would google "jobs for consuls." Jot down the jobs on the list that you find to be interesting. Be open to different opportunities.
Choose from the list of jobs you jotted down.
Begin to network by reaching out to friends and past colleagues. If you have a LinkedIn account, search to find if you are connected with anyone in the field you are pursuing.
Determine if additional education is required and pursue it.
Update your resume.
Ask current or former colleagues and administrators for references (depending on your situation).
Search for job opportunities and draw on your connections.
Begin to interview with confidence and a deep understanding of who you are and what you bring to the table. Get the life and job you want and deserve!