Throughout the school year, you'll want to capture snapshots of your students' current writing abilities so that you can design lessons based on their needs. Benchmark writing assessments are a great tool to help you do this! You can learn all about what benchmark writing assessments are, why they are important, and how to use them in your classroom below. This post also highlights this benchmark writing assessments resource, which is a powerful assessment tool that will help you track student progress through the four seasons: autumn, winter, spring and summer. At the end of the school year, you'll have four writing samples that show your students' growth in writing. Read more below!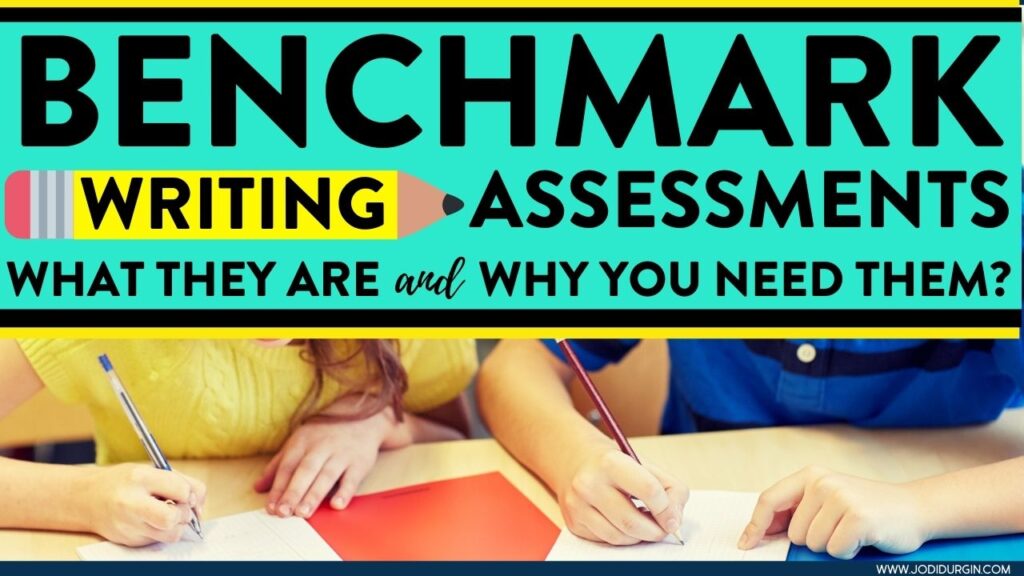 What are Benchmark Writing Assessments?
Benchmark writing assessments are an assessment tool that teachers administer at pre-determined points throughout the school year. They provide a snapshot of students' current writing abilities, so teachers can accurately communicate students' progress towards grade level standards and use the information to design data-driven instruction.
Why are Benchmark Writing Assessments Important?
Writing benchmarks are an essential tool for elementary teachers because of several reasons. First, they provide a snapshot of students' current writing abilities. This allows teachers to accurately communicate students' growth in their writing skills throughout the school year to parents and school personnel. It also allows them to identify students' strengths and weaknesses so they can create data-driven instruction to address misconceptions and areas of need. Pinpointing these areas and planning and delivering intentional instruction helps students grow at a much faster rate. Finally, benchmark assessments prepare students with the skills and experience they need for future writing assessments. They'll learn time management, independent work skills, and more.
How to Implement Benchmark Writing Assessments
Below are the steps for how to successfully implement benchmark writing assessments.
1. Download the Benchmark Writing Assessments Resource
The first step is to download the benchmark writing assessment resource. It is available in my Clutter-Free Classroom Teachers Pay Teachers store.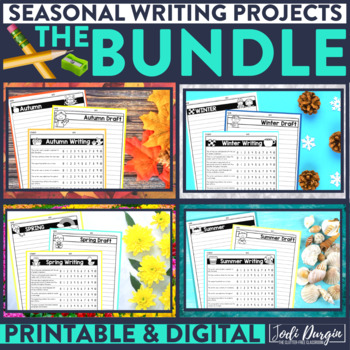 What Does the Seasonal Writing Bundle Include?
The seasonal writing bundle includes the following resources:
4 seasonal writing activities that help you document student growth throughout the course of a school year
printables for all parts of the writing process (brainstorm, draft, and final draft) so you don't need to supplement with additional resources
multiple stationery options so you can differentiate based on your students' needs
3 versions of photos and illustration templates per season so you can choose which one you like best
rubrics that help make expectations clear to students and make grading quick and easy for you
self-assessment activities that help you guide students through reflecting on the experiences
feedback forms to help you identify student strengths, set goals for each student, and develop future lessons
teacher guides to walk you through how to implement the resources in your classroom
digital versions of all the resources so students can access them at home or in school
Why Do Teachers Love this Seasonal Writing Bundle?
Below are 5 reasons elementary teachers love this writing assessment resource:
The resources document student progress over the course of a school year, which make them great for including in writing portfolios and sharing with families during parent-teacher conferences.
It includes print and go resources, which saves you lots of time planning and prepping.
It includes clear instructions, expectations, and rubric guidelines for students, so it makes it easy for students to understand the criteria for quality writing.

There are digital and printable formats so teachers can access students in class and at home.

They serve as great formative assessment tools that can be used year after year.
2. Check out the Included Information and Resources
This resource includes helpful information about the resource, as well as about writing instruction in general. Here is a short excerpt from the resource:
"A top-down web is a graphic organizer that presents topics and sub-topics in a hierarchical way, using varied shapes and placement on the page to represent the connections among the topics. It is often used to improve reading comprehension to frame students' thoughts and help them to understand the information they are reading. They also work amazingly well as a tool for designing the structure of writing."
As part of this step, select which resources from the seasonal writing bundle you are going to use. It is packed with tons of differentiated resources to choose from. Choose which ones work best for you and your students.
3. Select Dates for When You Will Administer the Assessments
The next step is to select the dates for when you will administer the assessments. When you are creating your curriculum map at the beginning of the school year, be sure to include the assessments you will administer throughout the school year (including these writing benchmark assessments).
4. Print and Prep the Materials for the School Year
These resources are quick and easy to print and prep. By prepping everything at the beginning of the school year, you'll be able to quickly grab what you need off of the shelf. Consider asking a parent volunteer to print and prep the materials for the school year. This is a helpful time saver!
5. Administer the First Assessment
I recommend administering either the summer writing assessment or fall writing assessment at the beginning of the school year. It will help you get a baseline as well as some insight into what skills your students are entering your classroom with at the start of the school year.
6. Score the Assessments Using the Rubric
Use one of the rubrics included in the seasonal writing packet to analyze and score each writing piece.
7. Provide Feedback to Students
The packet also includes a writing feedback form that provides space for you to document students' strengths and future goals. There is also a student reflection form that guides students through identifying what they are proud of about their writing piece, what they found challenging, and what their goals are for writing. Consider meeting with students via a one-on-one conference format and using the prompts on these templates to guide the conversation.
8. Organize and Analyze the Class-Wide or Grade-Wide Data
I recommend organizing the information using a data tool like Google Sheets, Numbers, or Airtable. Import all of the information and take time to identify patterns in what students did well with, as well as what they struggled with. You can also use this time to group students by what they need help with. This will be helpful as you work on the next step.
9. Plan Data-Driven Instruction Based on Results
This is a very important step. You are going to use all of the information you gathering and analyzed to design instruction that addresses your students' needs. If your whole class struggled with a specific writing skill, plan a small series of whole group lessons based on that skill. If you had 4-5 students all struggle with a skill that the rest of the class has mastered, then plan a small group lesson for that group of students that targets that skill.
10. Repeat Steps 5-9 for the Other Assessments
In closing, we hope you found this post about writing benchmark assessments helpful! If you did, then you may also be interested in these posts:
In addition, you may be interested in the writing benchmark assessment resource I highlighted in this post. It's available by itself or as part of my Clutter-Free Classroom Writing Collection. Learn about them below!