If you are an elementary teacher looking for animals in winter activities for elementary students, then you found the right place! This post shares read aloud recommendations and literacy activities. Learn all about them below!
Animals in Winter Activities
Take a peek at the animals in winter read alouds and reading activities below!
Animals in Winter Read Alouds
Check out the list below for some of my favorite animals in winter books for kids!
1. Over and Under the Snow by Kate Messner
In Over and Under the Snow, a girl and her dad are out cross-country skiing together. When the girl notices a fox disappear into a crack in the ground, her dad tells her that there is a whole world under the snow. As they ski through the woods, the girl considers all of the animals both nested under the snow, such as mice and voles, and those her and her dad notice above the ground, such as deer and owls. That night, the girl dreams of all of the animals she had seen that day, and imagines the secret kingdom under the snow.
2. Bear Snores On by Karma Wilson
In the story Bear Snores On, Bear is sleeping soundly in a cave in the woods through the long winter. Mouse enters the cave and lights a fire, and, soon, Hare joins him and they begin popping corn and brewing tea, but the bear snores on. Badger, a gopher, a mole, a wren, and a raven soon ask to share some of the food, and, despite the commotion, Bear remains fast asleep. That night, Bear eventually wakes up, and, with a great roar, scares the animals off. He is upset that they had all that fun without him. Noticing why he is sad, Mouse offers to brew more tea and pop more corn. Soon, the rest of the animals return and the party continues through the night!
3. Hibernation Station by Michelle Meadows
Hibernation Station is a fictional story about what happens when too many animals try to hibernate in one place. Winter is approaching, and all of the animals in the forest head to the hibernation station to settle down until spring. However, some of the animals are having trouble sleeping: a black bear's roommate is too noisy and a groundhog wants more light in its room. Soon, many more animals are uncomfortable in their rooms. Luckily, the bears in charge help all of the animals settle down and they soon fall fast asleep!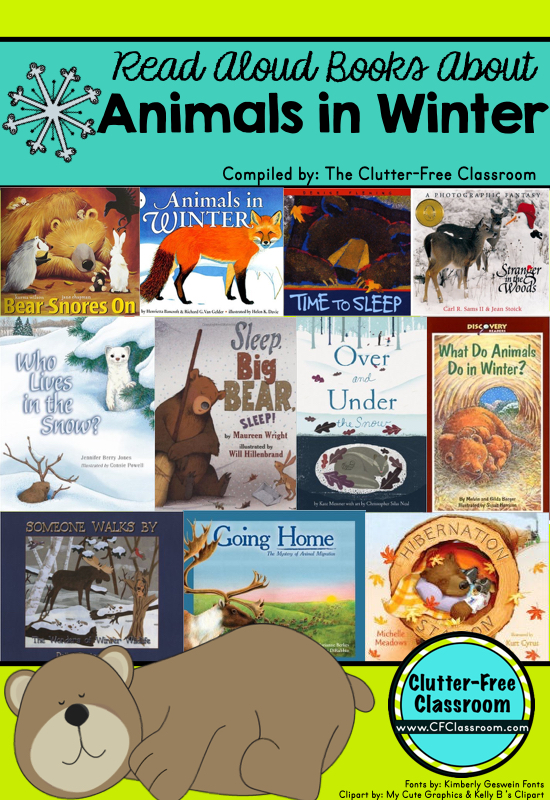 Animals in Winter Reading Activities
These animals in winter reading activities provide engaging, meaningful practice to greatly improve your 1st, 2nd, 3rd, 4th or 5th grade students' reading and writing skills. Each of the included reading graphic organizers can be used over and over and with ANY winter animals book you choose. They work great with the read alouds listed above.
This resource includes tools for teaching the following:
predicting
sequencing
story mapping
summarizing
character traits
schema
brainstorming / webbing
identifying facts
main idea and supporting details
non-fiction text features
gathering information
comparing and contrasting
cause and effect
fact and opinion
note taking
vocabulary and author word choices
visualizing
making connection
sorting information
report writing
retelling