Hola! Bonjour! Greetings from EPCOT. I actually began my teaching career in central Florida (specifically Winter Park and Sanford if any of you are from the area) and one of my favorite things to do on the weekend was stroll through the countries in EPCOT. It's a wonderful way to get a sampling of the sights, sounds, and tastes of places I will most likely never really get to visit. These visits inspired the country research project for students, which is called World Tour: A Study of Countries Packet. Learn more about this country research project below!
What is this Country Research Project for Students?
This country research project is a World Tour Booklet that will enable your students to explore, research and learn about different parts of the world. I designed this project as an open-ended task so that it could be used at multiple grade levels and in a manner that best fits the needs and interests of your students. I created it in color, but it prints and copies beautifully in black and white as well.
You can use this product alone or as a supplement to your Social Studies curriculum. You can assign one country to a specific student/group of students or you could prepare a booklet for each student. These also work well as an enrichment activity for students who are "early finishers."
What is Included in this Country Research Project?
Each page has a space to write the name of the country, draw its flag and record interesting facts. There is an included page sans clipart for students to select their own countries. If you want to mix and match the pages, you might opt to have them draw in a child in clothing specific to the country they are studying. Feel free to leave the project open-ended or require them to find and add details such as capital, population, exports, language, foods, etc.
This country research project includes the following printables:
World Tour booklet cover
9 open-ended countries pages (with space for the country's flag, the capital, etc.)
Blank template to use with any country
How do I Implement the World Tour Project in my Classroom?
Prep the materials for the country research project by doing the following:
Print the packet.
Copy half as many as you need.
Stack them in order with the cover on the top.
Staple along the side.
Use a paper cutter to chop down the middle and make 2 books from one copy. 6. Provide each student with a booklet and research materials.
If you have students who are going to Epcot during their vacation and their families asked for work to take with them on vacation, then you can send a blank copy of this home with them. The kids could interview Cast Members at EPCOT and record what they've learned from visiting the countries in the World Showcase.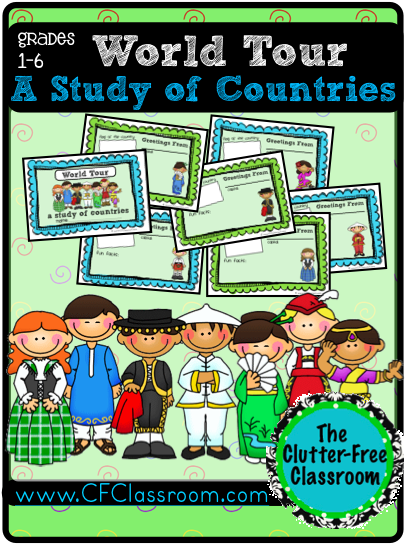 Additional resources you may find helpful are this Me on the Map packet and Holidays Around the World packet. Students can use it to do a deeper dive into their own country.