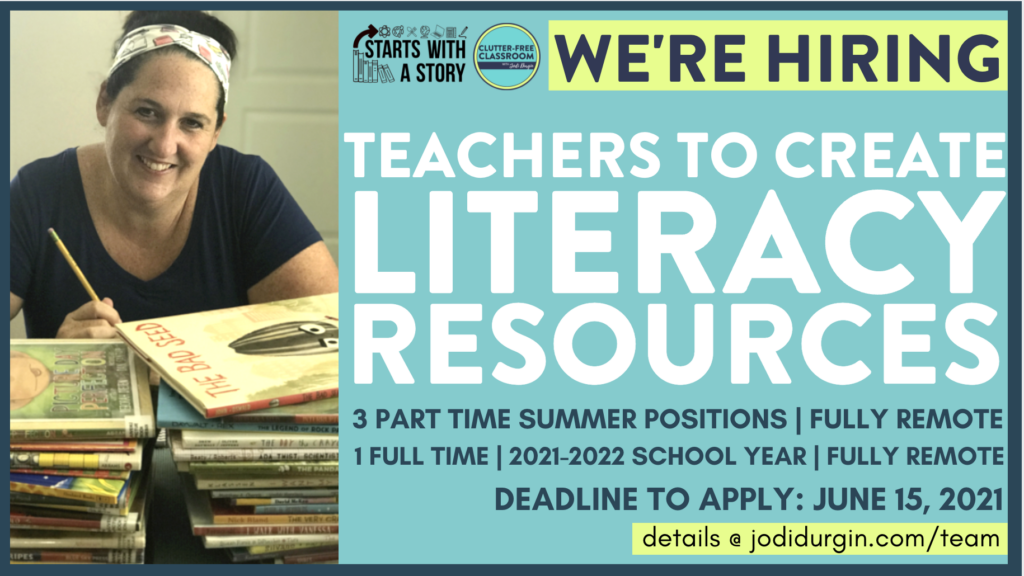 LITERACY RESOURCE CREATORS
3 PART-TIME SUMMER POSITIONS AVAILABLE (w/ opportunity to continue during the school year) | FLEXIBLE SCHEDULE | FULLY REMOTE
(STEP 1:) READ THROUGH THIS COMPLETE POSITION DESCRIPTION to get a comprehensive understanding of the expectations of this role.
(STEP 2:) REFLECT ON THAT INFORMATION AND YOUR SKILLS, INTERESTS, ABILITIES and AVAILABILITY to determine if you feel like you would be an ideal candidate.
(STEP 3:) COMPLETE THE PRACTICE WORK SAMPLE to show off what you can do.
(STEP 4:) ACCESS AND COMPLETE THE APPLICATION FORM so we have all the details to get to know more about you and your experiences in education.
---
LITERACY RESOURCE SPECIALIST
1 FULL TIME POSITION AVAILABLE | $40,000 | 30 HOURS A WEEK | FLEXIBLE SCHEDULE | REMOTE
Are you an experienced classroom teacher who has recently left (or would like to leave) the classroom and would like to use your skills and knowledge to have an even bigger impact in education? Would you like to do all of that without ever needing to work at night or on the weekends?
We are planning to add a new member to our team. This person will be creating resources and content to help 1st-3rd grade teachers engage their students in literature-based learning.
If you are interested in applying for this position, please go through the same application steps listed above. There is an area on the application form to indicate you would like to apply for the literacy resource specialist role. In addition to the steps above, there will be additional interviews and sample projects as part of the hiring process. We're so excited to learn more about you!