Over the years, I have curated advice for teachers for how to survive the holiday season. I personally love the holidays, but that love usually starts after all the "school stuff" is done and over with. The month of December is stressful for every average Joe, but add in report cards, school programs, assessments, kids missing school for early vacations, assemblies, and the extra boost of energy students have and you've got a recipe for a stress-filled holiday season!
On top of our everyday teacher duties, we've got to cram in all our outside lives' holiday duties like decorating and fighting crowds at the mall for this season's "it" toy that our children must have. It's hard to fully enjoy the holiday season if you are barely staying afloat at work and adding things to your to-do list faster than you can cross them off.
This free December guide helps reduce the chaos that arrives every December and allows you to enjoy a stress-free holiday season. It's packed with advice for teachers and printable resources.
5 Pieces of Advice for Teachers to Help Reduce Holiday Stress
Here are a few holiday teaching tips for planning ahead for the month of December:
1. Prep your Christmas cards early.
Create updated mailing labels for your holiday cards. If you prefer to handwrite them, get envelopes and write all the addresses on the cards. If you send photoless cards, or if you like to use a picture taken during the summer months, you could even get the cards 100% done and ready to drop in the mail.
2. Make a Christmas list.
Make a list of everyone you plan to buy a gift for and jot down some ideas for presents. Doing this now will enable you to find better deals and come up with more thoughtful gifts than a last minute gift card. It can also be helpful to set a budget. This will relieve stress caused by high January credit card bills.
3. Shop early.
Buy and (if you are feeling really ambitious) wrap as many gifts as you can before the month of December. If you don't have holiday wrapping paper, just buy a solid red, green, blue, or a brown craft paper. It totally works!
4. Prep for holiday parties early.
If you're planning to have a holiday party, you can make invitations, plan recipes and décor, or choose some activities/games long before the event. My favorite place to start is Pinterest. There are SO many awesome ideas out there!
5. Prep student gifts early.
If you give your colleagues or students a small holiday gift, you can prepare those now as well. Having this done early will help prevent you from scrambling around the days leading up to winter break.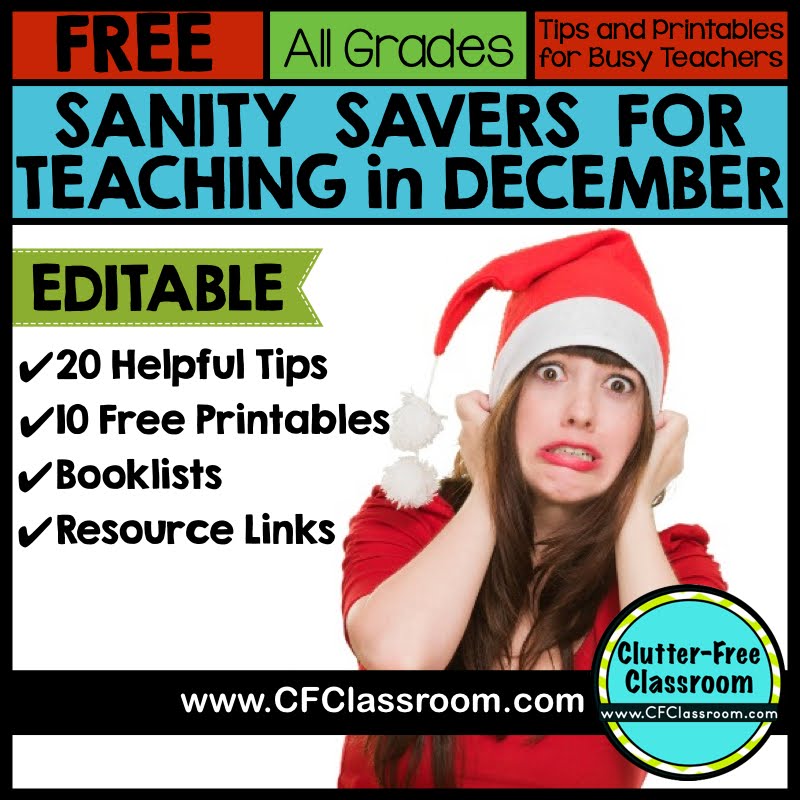 Don't forget to download this free resource that includes 20 December teaching tips and 10 printable resources. This advice for teachers is a total game changer! It will help you make December more manageable, so you can spend time doing the festive activities you love!