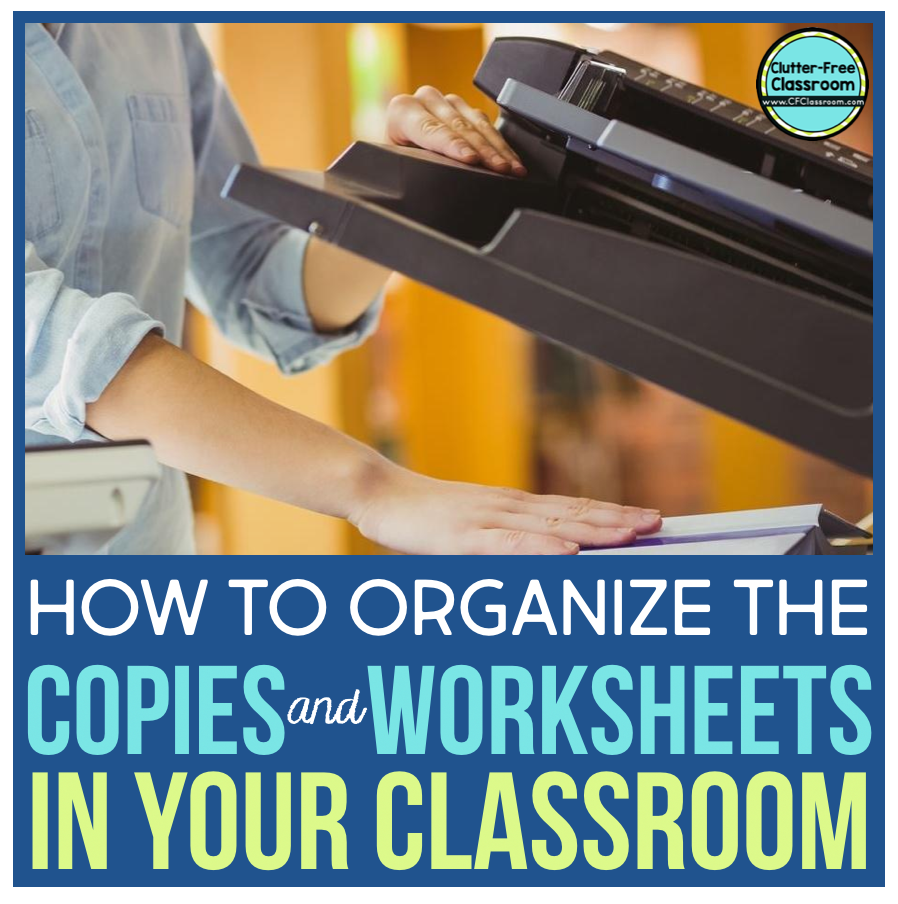 Do you have stacks and stacks of photocopies on your desk? It can be overwhelming! Check out the plan for organizing photocopies and worksheets below and grab a FREEBIE.
This blog post will…
share tips and ideas for storing and organizing photocopies, worksheets and other student assignments
offer a freebie set of labels for the storage system you choose
equip you with a plan for organizing photocopies and worksheets
Plan for Organizing Photocopies and Worksheets
Establish a location for the copies and materials you'll need for the day. I recommend setting them up for the next day each afternoon before you leave school. This will make your morning run much smoother and everything will be accessible for a sub in the event of an unexpected absence. Some ideas include: Lying them out in sequential order on a shelf at the front of the room, placing them by subject in stacking trays, using plastic drawers to sort by subject, and housing them in a vertical pockets.
Develop a system for holding your copies for the upcoming week. I am currently using cardboard boxes from IKEA that I decorated for each day of the week. I like these because they are open at the top which makes it easy to add papers and they are wide enough to hold everything I need. When the copies are made, I simply slide them into the appropriate box for the day I plan to use them. I love this method for a few reasons: a) Everything is at my fingertips; b) the vertical design makes it easy to flip through and find what I need; c) in the event that I am out unexpectedly or need to leave the room, someone can step in and take over; d) if we have a snow day or don't have time to get through everything that had been planned, it is very easy to shift the materials over to the next day. I have additional boxes labeled for homework, next week and the week after next. This allows me to get ahead in my copying by up to 3 weeks. I used to use plastic drawers for this purpose, but I just prefer the boxes. In the past, I also used hanging file folders. I had labeled 31 folders with numbers 1-31 with each representing a day of the month. I would then file my copied papers into the folder for the day I planned to use them. I didn't hate this system, but I found the folders weren't big enough and if we had an unexpected snow day it thwarted my system.
GET ALL THE STEPS and TOOLS TO ORGANIZE YOUR CLASSROOM: