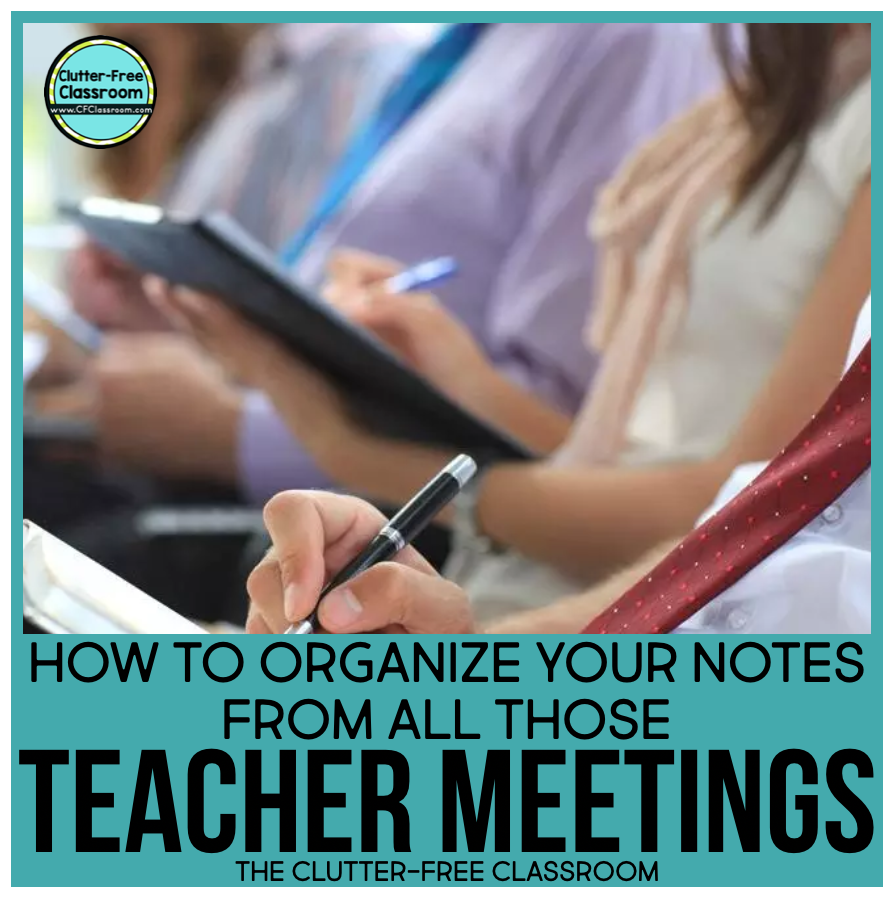 As you know, teachers teach. Teachers inspire. Teachers touch the future. And teachers go to meetings. Lots and lots and lots of meetings. These meetings all have different purposes. Sometimes you listen. Sometimes you contribute. Sometimes you leave with a list of things to do. Sometimes important information is shared. Sometimes some not so important information is shared, but you may still need to follow-up or reference those tidbits of info at a later time. So it is important that you create a system for documenting the meetings and their outcomes. Like all methods of organization, it really comes down to what works best for you and your style. Read to learn a few ways to do this below.
This blog post will…
share tips and ideas for storing and organizing the agendas and your notes from meetings along with memos.
Ideas for How to Organize your Teacher Meeting Notes
Multi-Subject Notebook: You may wish to use a multi-subject notebook and designate each section to a different type of meeting.
Journal: Some teachers get a journal and write everything sequentially into that one little book and flip back by date to find what they need.
Paper Agenda: Another option is to take your notes on the back of the paper agenda that is passed out, hole punch it, and keep them all in a binder.
Binder: If you have an all-in-one teacher organizing binder then you may want to just be sure you've included a section for meetings. You may also prefer to develop a separate system for keeping your meeting notes organized. In the past I used a binder. I liked the organization of the separate sections and the ability to add 3-hole punched papers to it. However, it seemed a bit too bulky for its purpose. I found that using a pocket folder met my needs in the same way a binder did, but took up far less room in my bag. You could start by listing all of the different meetings you attend. Some suggestions include: staff/faculty meetings, student study team meetings, grade-level planning meeting sessions, special committees, data meetings, etc. or… You could just keep them all in one section (and perhaps use a different color pen for different types of meetings). You'll also want to include a section for "other." For each section create a tab and include paper for meeting notes. You might also want to include an empty page protector that you can slide agendas and other handouts into. Include simple calendar pages for easy reference on dates. I typically jot things down that are related to future meetings and follow-ups and then add them to my master calendar afterwards.
Here's What I Do
I've created printable templates for each of the types of meetings that I need to attend each year.
I made several back to back copies of each and slid those copies into plastic page protectors (with each type of meeting having one designated page protector)…this means I have one page protector labeled "faculty meeting" with 5 two-sided copies inside, I have one page protector labeled "grade-level meeting" with 8 two-sided copies inside, etc. I place these in my teacher binder.
During any given meeting, I take out the corresponding template, write in the date and any important info (location, special presenters, etc) and use that page to take notes.
If there is a "call to action" that must be addressed after the meeting I make note of it in the follow-up column.
I keep the most recent page on top and store the others underneath in order. The reason for doing it this way is that it keeps all related meeting notes together without adding extra pages to flip through in my teacher binder.
IMPROVE YOUR CLASSROOM MANAGEMENT: