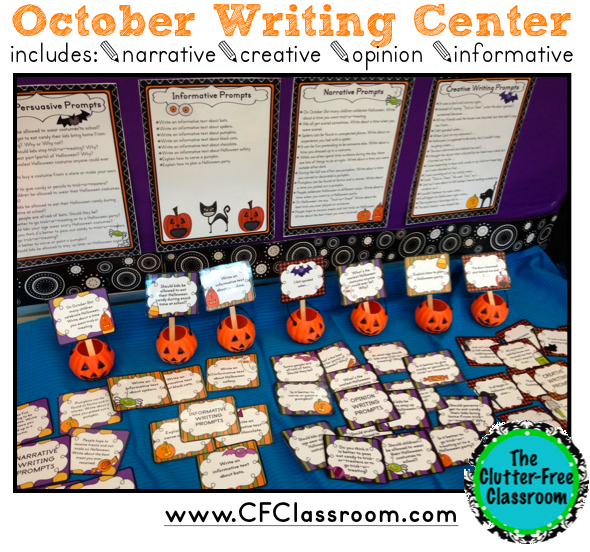 We are going through pencils like crazy and it is only the second month of school. We began math journals this week and have completed some structured narrative and opinion writing pieces as well as a few writing projects that were coupled with crafts (Bad Case of the Stripes, and Rocking in my School Schools). We also conducted spider research and are in the process of drafting one of my annual favorites: Diary of a Pig in conjunction with our literature study of Charlotte's Web. Gosh! Typing it all out makes me realize just how busy we've been.
While we seem to always have some writing in the works, I also love to give them time for free writing so they can work on their craft in a way that they choose. The problem was that I would hear that infamous line, "I don't know what to write about." At that point I would redirect them to the paragraph idea banks which provided them with a huge list of topics that were personal to them, but I felt like I needed to also add in another option.
And so I created a collection of fun prompts for the month of October that not only motivates them to write, but also covers so many of the Common Core standards.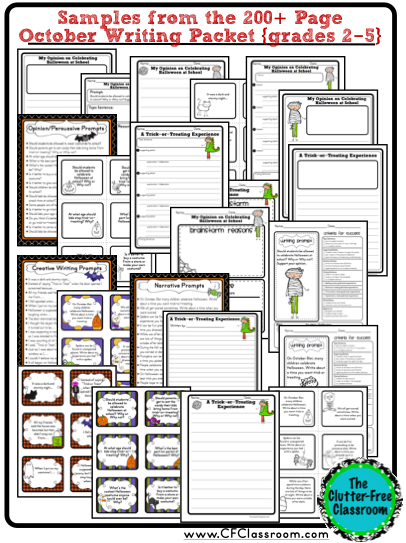 There are prompts for narrative, opinion, informative, and creative story writing. I have these presented as a 4 single sheets of prompts so they can see all the prompts at a glance and also as individual task cards that can be taken to their seat or a comfy spot for writing.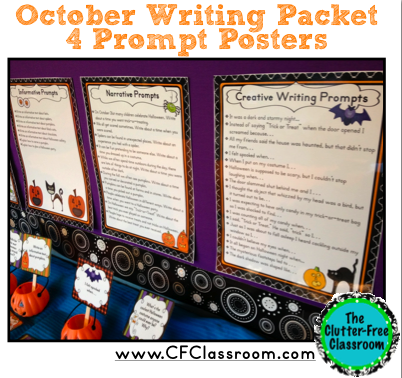 The packet even includes the narrative and opinion prompts using the same 7 page writing process packets as my popular Narrative and Opinion Paragraph of the Week Packet (brainstorm, organize, draft, edit, publish rubric) if you want to use these prompts to take them through the writing process. These are great for homework throughout the month of October.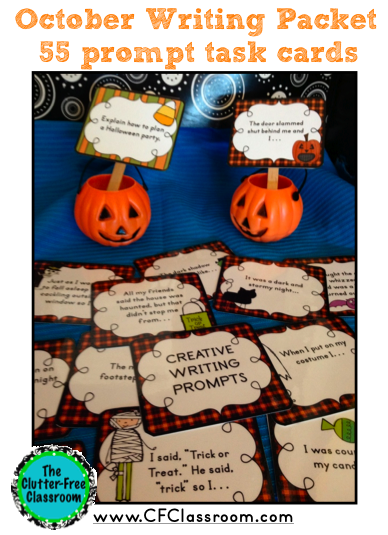 The packet includes everything shown in the Table of Contents below:
The packet includes materials that will allow you to cover almost all of the Common Core Standards for writing…and if you want to actually cover them all you simply need to add in a step having them publish their final copy using the computer.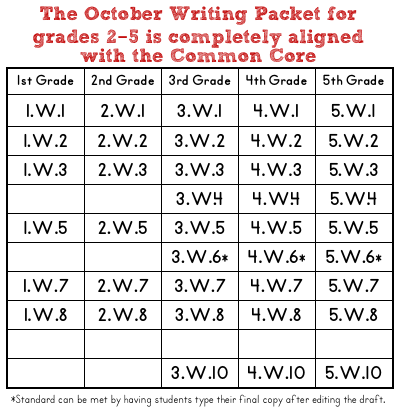 This blog posts gives you a look at one of my most popular writing packets: Haunted House for Sale which is great for descriptive writing.
Narrative and Opinion Paragraph of the Week
Are you looking for an easy and consistent way to have your students practice their writing? This blog post explains what I use for growing their craft, preparing them for assessments and using as homework and / or emergency sub plans as well.
Seasonal Writing Projects
I love documenting my students writing progress with these adorable keepsake writing projects. The growth they show between the fall and the spring is amazing! The following links will take you to the blog posts where I showcased the seasonal writing projects.
Winter