Without even realizing it, clutter is negatively impacting your life. One of the reasons I am so passionate about removing clutter from classrooms is that I've seen how it hinders student growth and teacher productivity. The items you possess should be tools to achieve your professional goals and the learning goals you set for your students, not obstacles that impede them.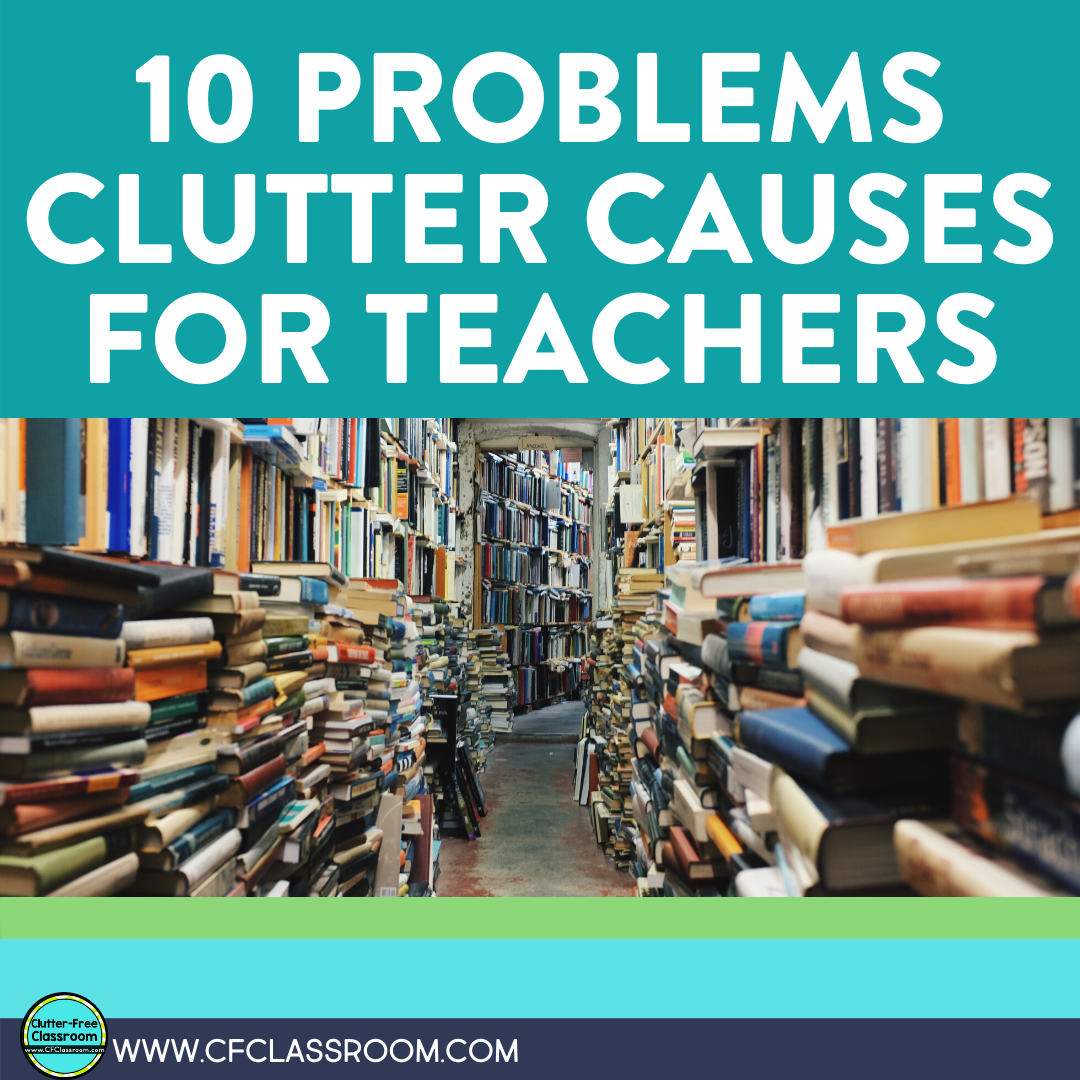 This blog post will…
suggest ten problems clutter causes.
cause you to reflect on the state of your classroom and how it is impacting you and your students.
encourage you to take action in your classroom and create the type of learning environment you and your students deserve.
10 Problems Clutter Causes for Teachers
Clutter costs you time: Are you often late for school because you are running around your home packing up your school bag, looking for the papers you've scattered over the weekend, or trying to locate your car keys? Do you end up staying at school later than you would like because tasks require looking for supplies and materials? It doesn't have to be that way. Decluttering and getting organized is the key to getting back valuable lost time.
Clutter costs you money: How many times have you bought a book or a teaching tool and then soon discovered you had the same item hidden in a closet or on a shelf? How many things have needed to be replaced because improper storage left them crushed, bent, folded or faded? Decluttering and organizing your classroom will spare you those unnecessary expenses.
Clutter causes stress and anxiety: Teaching is stressful enough, but a disorganized classroom adds additional stress to your busy life. Even worse, stress wreaks havoc on your body and your mind. Getting your classroom decluttered and organized will also free up extra time for you to go for walks, hit the gym, or enjoy relaxing hobbies. Activities like these decrease your risk of teacher burnout and bring back your enjoyment of teaching.
Clutter causes health issues from dust and other allergens: Clutter enables dust and allergens to collect which can trigger allergies, cause headaches, sniffles, and sore throats. Improve your and your student's health just by cleaning out your classroom.
Clutter makes cleaning more difficult: When you have more items to take care of, naturally it takes longer to clean them. Take back your time after school hours by decreasing the amount of time you spend cleaning up your classroom at the end of the day.
Clutter reduces your already limited classroom and storage space: Most classrooms are small when you consider that 20-30 bodies and their belongings reside in them for several hours per day. As a result, you need to make the most of your space, which means letting go of unnecessary items. In addition to limiting your classroom and storage space, your home and vehicle may also be filling up with school stuff. Do you have bins and tubs containing classroom materials stored in your home? Are you driving around with school books and supplies in your car? Your home and vehicle are your personal space and shouldn't be taken over by the mounds of classroom materials that belong at the school.
Clutter is distracting to you and your students: Clutter draws our attention away from what our focus should be on – Planning lessons, grading, communicating with students' families… Instead, you may be spending time moving papers from one side of your desk to the other or perhaps searching for math manipulatives in your messy storage closet. Even if you are not bothered by the amount of clutter in your classroom, chances are your students have a hard time learning in an environment filled with clutter. This results in decreased learning, off-task behavior, and you being a less effective teacher.
Clutter causes you to lose things: Clutter decreases your productivity because you spend time looking for things like your daily lesson plans, printables, and other lesson materials. During this time, students are more likely to exhibit off-task behavior. This unfortunately results in even more lost learning timing.
Clutter causes others to view you negatively: Clutter can affect your interpersonal relationships with the important people you work with daily. Parents and colleagues rely on you to be on time and to quickly fulfill your professional responsibilities without running late, missing deadlines, or failing to fulfill your promises. Being on top of everything will free up your time so you can enjoy lunch in the teacher's lounge, visit with other teachers, and be part of any Friday festivities that may be planned for after school.
Clutter threatens you and your students' safety: If you don't declutter your classroom and purge all of the unnecessary items within it, you may have a safety issue on your hands. For example, if things are haphazardly stacked in your classroom and fall on a student, he or she could possibly be injured. A second example is if your clutter is blocking walkways, your students may trip over things or not be able to get out of the classroom easily in the event of an emergency.
Calling all ELEMENTARY TEACHERS who want their classrooms to look and feel neater…
We've created a FREE 5-STEP PROCESS that will have your room looking much more organized and have you feeling less overwhelmed in UNDER AN HOUR!
Sign Up for the free challenge and make 2020 the year you feel less stressed, enjoy teaching in your clutter-free classroom and stop taking school work home on your nights and weekends.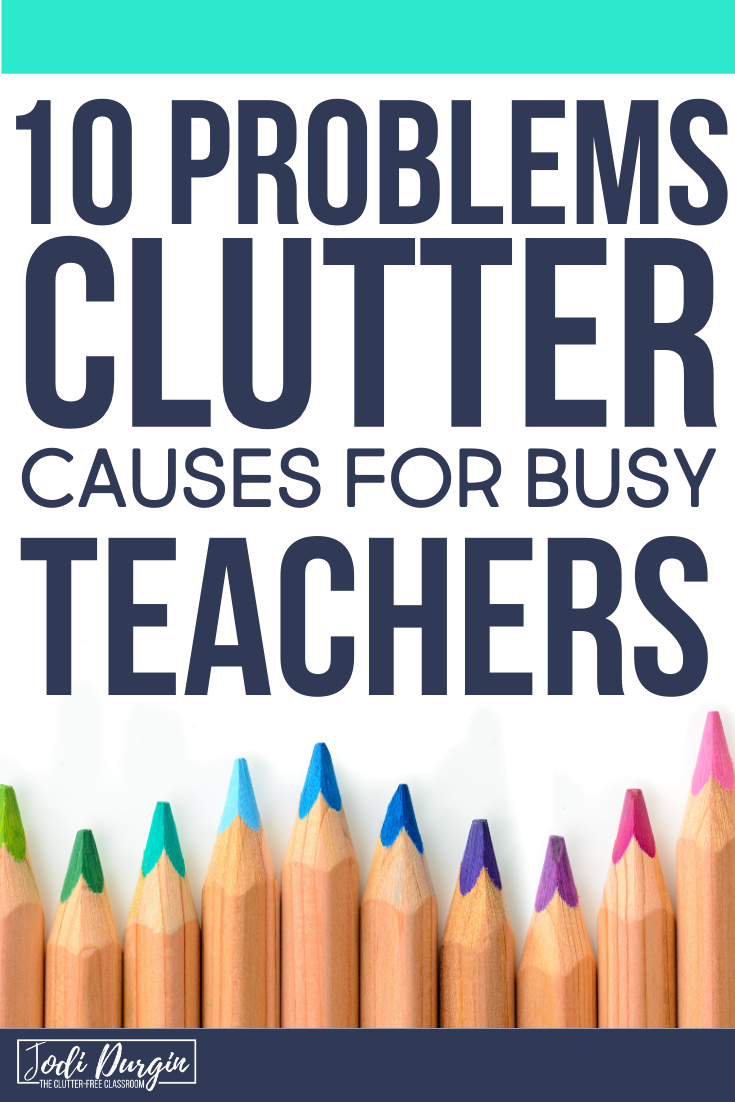 Pick and click any or all of the options below.
READ ALL THE BLOG POSTS IN THE SUB PLANS SERIES: