Calling all elementary teachers! Teaching in December doesn't need to be stressful! It's actually the perfect time to make the most of the excitement and motivation children have as the holidays are approaching. One fast and easy way to put a holiday spin on the usual routine is to replace your math manipulatives during Math Workshop with Guided Math with creative math manipulatives that are holiday-themed. My students absolutely loved this! This is something I like to do the days leading up to a school vacation or on a holiday. It's such a fun idea! Engaged and learning students in December … yes please! Get more free teaching hacks by scooping up this December teaching tips resource!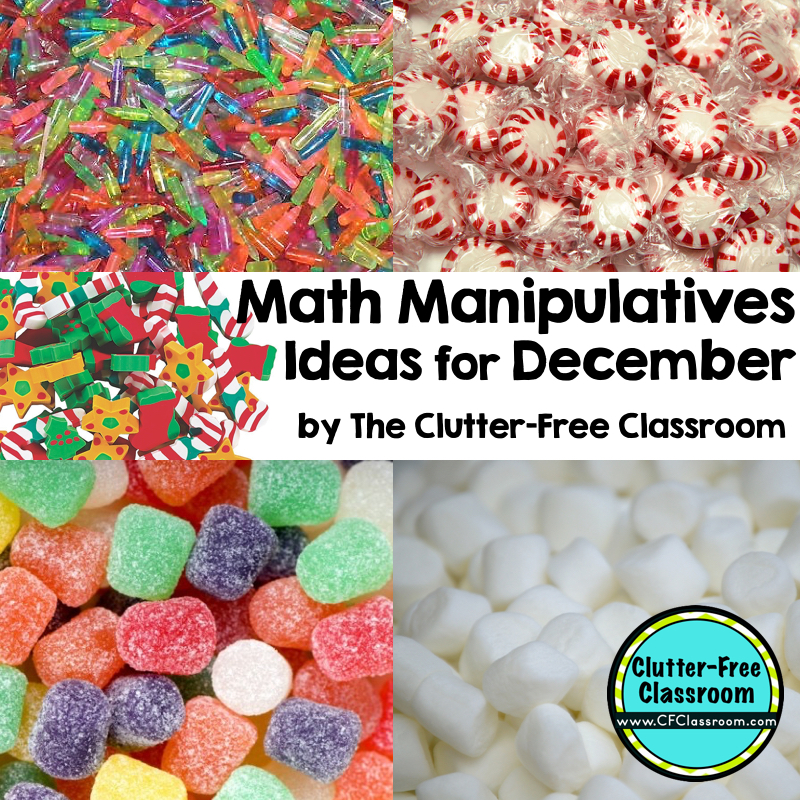 Creative Math Manipulatives Ideas for December
The options are really limitless! However, below are some ideas for fun December math manipulatives that will help you get started. There are so many festive items you can use in your classroom. Don't be afraid to use your imagination!
wrapped peppermints
mini-marshmallows
gumdrops
seasonal erasers
bulbs from a Lite-Brite
Ideas for Using Fun Math Manipulatives in December
You can use any of the creative math manipulatives listed above to teach math concepts and skills. The limits are endless! It is amazing how many different ways they can be used! Check out the ideas below to help you start brainstorming.
counting
addition
subtraction
making arrays
acting out division equations
varied units of measure
geometry (add toothpick to the marshmallows and gumdrops to make 3D solids)
Free December Resource for Elementary Teachers
We hope you found a fun new idea to increase student engagement during math instruction in December! There are tons of creative math manipulatives you can use. This list just shares a few to help you get started. Let your imagination soar! You might find this free December resource helpful as well. It includes helpful tips, free printables, booklists, and resource links. Be sure to check it out!