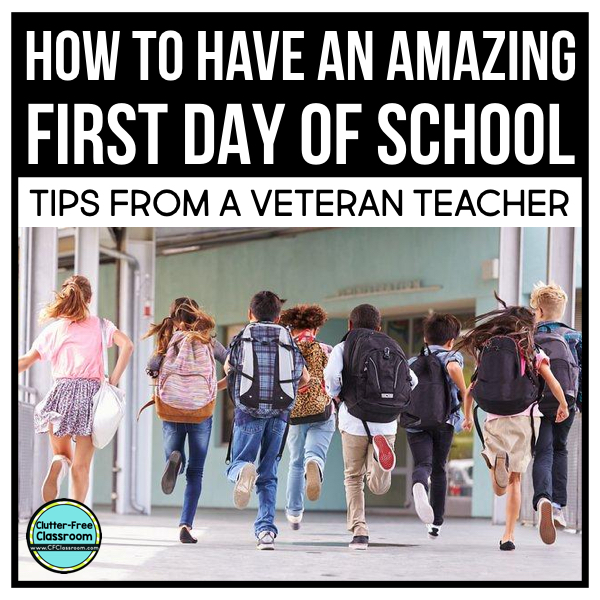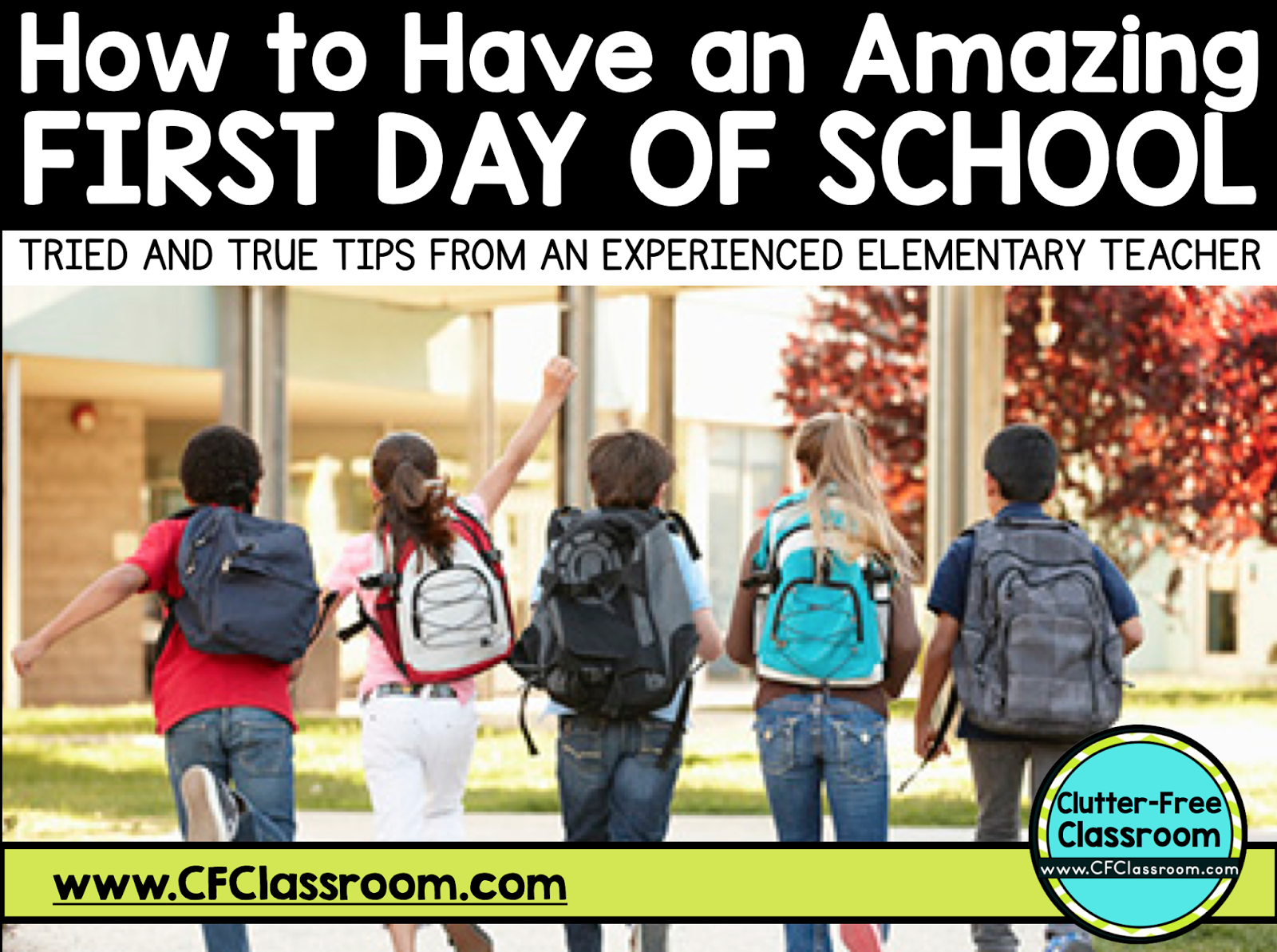 The first day of school is such fun. There is so much excitement and energy.
It is also one of the most challenging days of the school year for a teacher because there are no procedures and routines in place and your new students are not yet familiar with your expectations. Unexpected things can and will pop up.
There may be a new student added to your roster 10 minutes into the school day. You could have a crier…or an "need-to-pry-the-kid-off-mom's-leg" situation. Also, you do not yet know the students and their ability levels. What seems like a simple and appropriate task could be challenging for some friends and the goal for day one is to send everyone home happy and excited to come back for day two.
Therefore, it is very important to avoid academic tasks that could be challenging on the first day. Instead focus on starting to build a community and establishing norms and routines.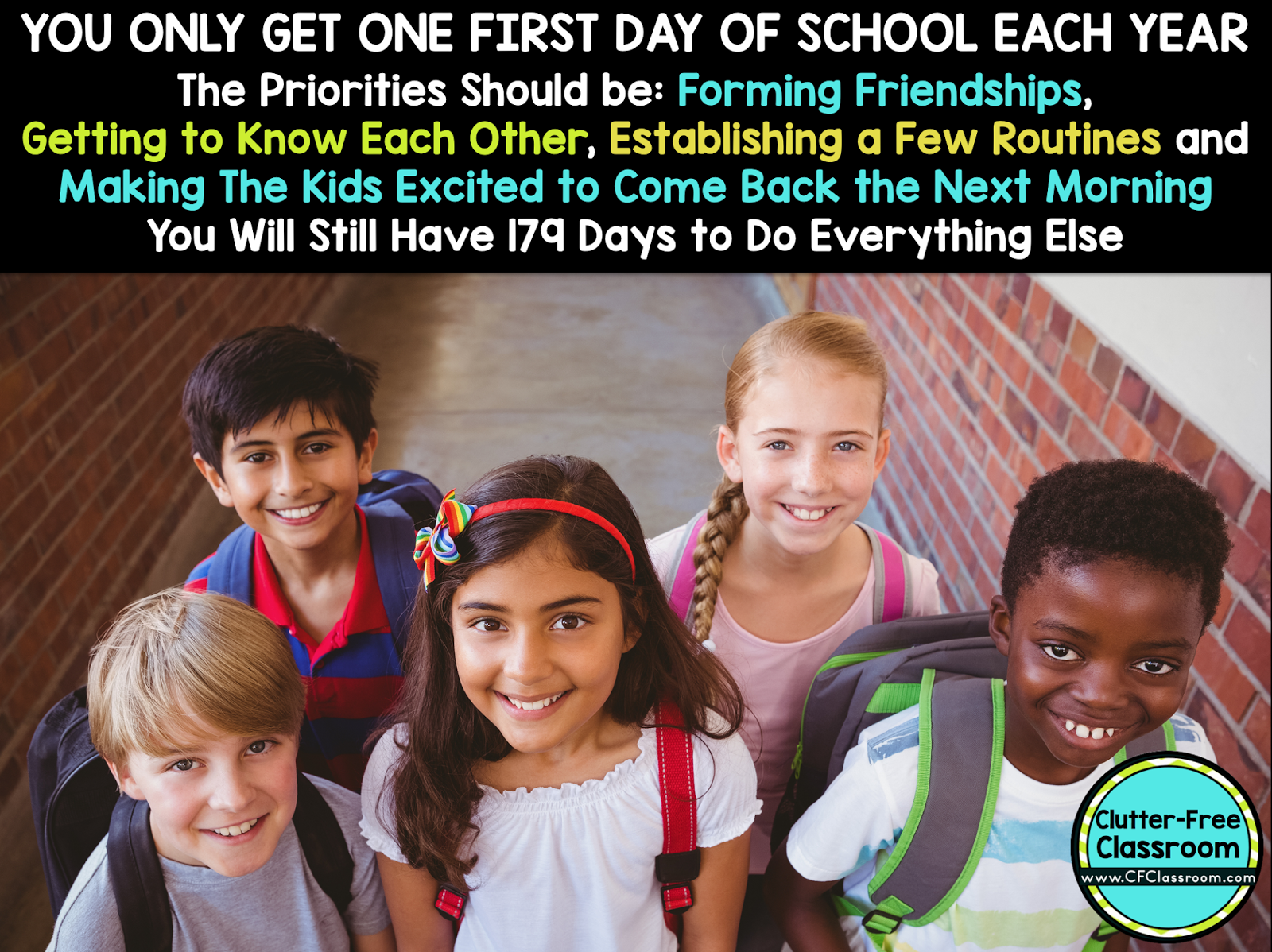 The key is to have lots of activities that can be completed by ALL students.
I have always greeted the students on the first day with Play Dough on their desk waiting for them. It is a great stress-free activity. After they get settled I would ask them to make things that represented their favorite food or sport.
Throughout the morning I would slowly introduce important things that help the classroom run smoothly. I think it is important to first establish an "attention getter" so you can get the children to look and listen to you. Start of with a simple and effective one such as shutting off the lights and then add in others. The one I found most effective was to quietly say, "if you can hear me clap once" followed by "if you can hear me clap twice." As students responded others would join in.
I also introduce our hand signal system early on day one. They are hands-down (pun intended) the very best classroom management strategy you can use. Having a nonverbal system for communication enables you to get through lessons, work in small groups and conference with students. They also keeps children more focused because they eliminate distraction.
Throughout the day I would gather the students to the group area for several read alouds. They included First Day Jitters and How I Spent My Summer Vacation. As a third grade teacher I always read Judy Moody was in a Mood Not a Good Mood, But a Bad Mood as our first chapter book. The story starts out on Judy's first day of third grade so there were great connections. I followed up each chapter with an activity based on the book.
It is important to plan short and simple activities on the first day. I had a variety of different printable pages and activities available and would select which ones to use based on how the day was going and how much time needed to be filled. These were a good way to start building community and learning about students as individuals. As the students worked on these I would take first day of school photos. The parents LOVED them. I printed two copies of those photos. One went on a bulletin board and the other was glued onto a card and sent home to the families with a hand-written note at the end of the first week. This is a nice way to start to build a positive relationship with each family.
Knowing there would be lots of odd minutes throughout the first week of school and times when I would need to meet with individual and small groups, I prepared a booklet for each student titled "I'm a Third Grader." The booklet was perfect because it included some great get to know you activities and areas for coloring. The children could work on these independently throughout the first day and the booklet was a great time filler during the entire first week when I would need to conference with students for running records or just when we had a few minutes to fill since our schedule was not yet automated. (By request these are now available for Kindergarten, First Grade, Second Grade, Third Grade, Fourth Grade and Fifth Grade).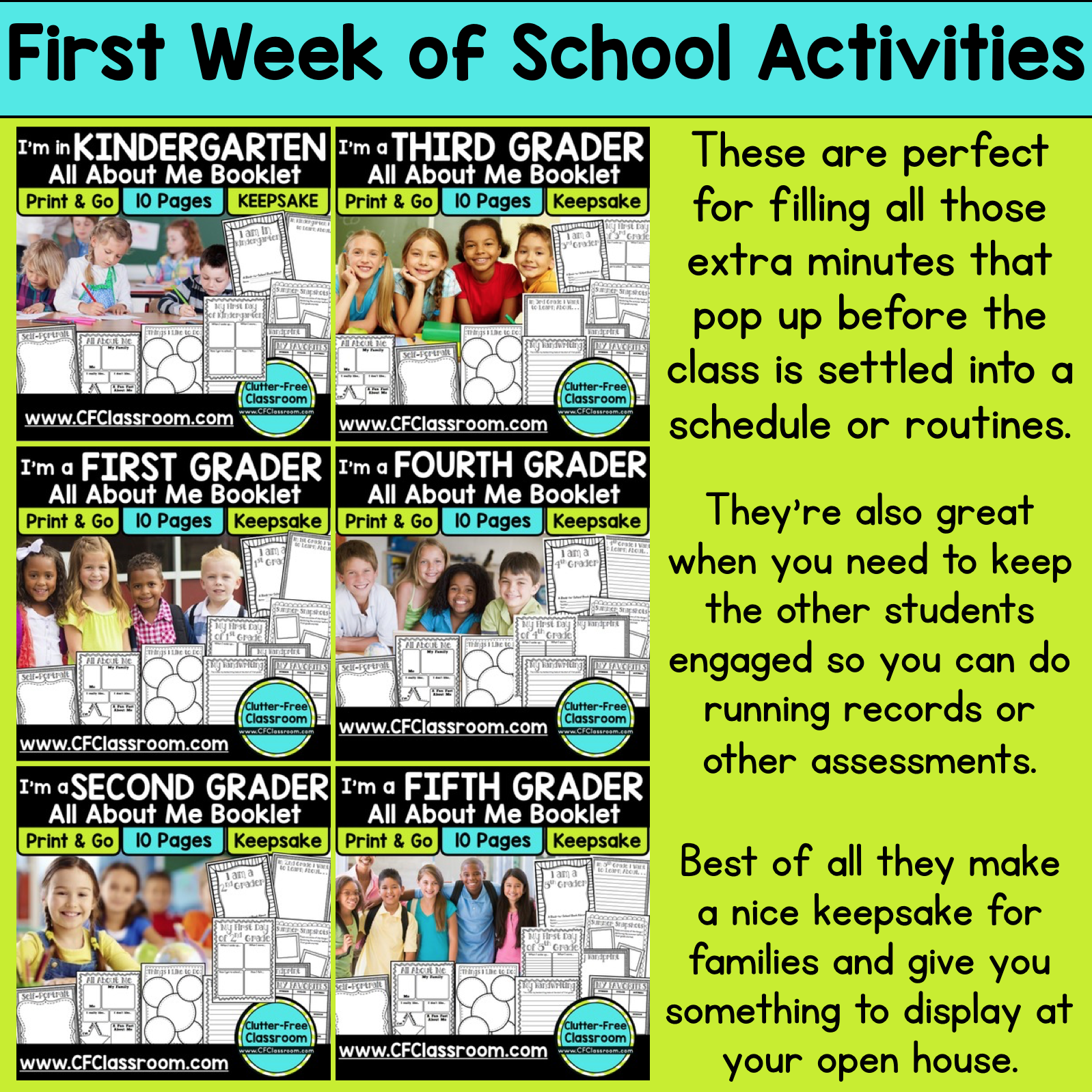 The other reason I loved these books was because they paired perfectly with our End of the Year Memory Books. I would save both and put them into a folder as a keepsake for each student.
During the time that would become our Math Workshop with Guided Math Instruction Block on the regular daily schedule, the students would explore some of the math manipulatives. This was one of my favorite times of the day because it set the foundation for our math workshop (the students were in groups and moved through a rotation – you can read about how to start and manage Math Workshop and get the printables here). It was a time when the students could reconnect with old friends and make new ones in a casual setting. It gave me a chance to circulate and chat with the students and make notes on how they interacted with each other. This information allowed me to create seating plans, form a "line order" for walking down the hall, and put together initial guided math groups.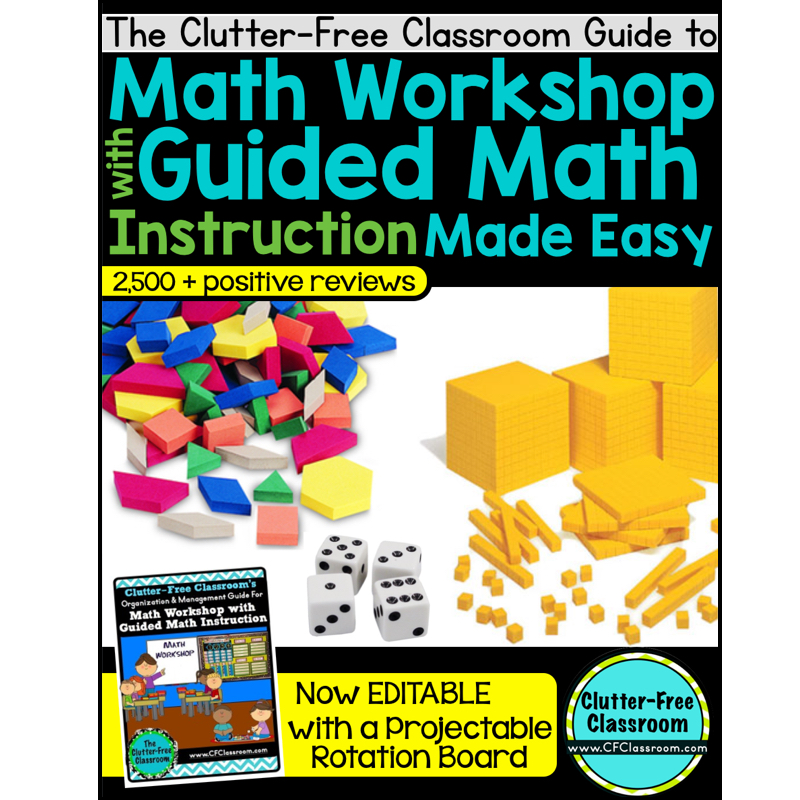 I highly encourage you to use a math workshop with a guided math approach in your classroom. Everything you need to get it up and running, introduce it to the students, plan, take progress notes, organize, manage and maintain math workshop can be found in the Clutter-Free Classroom Guide to Math Workshop with Guided Math Made Easy resource.
At some point during the day I would introduce their writer's notebooks. I explained that they would be using them each day, but for now we were just going to start gathering ideas. I passed out my Writer's Idea Collection Bank. It's a series of grids with topics such as toys, restaurants, foods, friends, etc. I would let a student pick any one of the topics. I would then play about a minute of a popular song. While it played the students would fill in that category with all the things they could think of. When the music stopped they stopped. I asked the students to share some things they listed and other children could add them to their banks. We repeated this throughout the first week of school and kept them in their writer's notebooks. Between this list and our fun monthly writing prompt task cards they ALWAYS had something to inspire their craft and I never once heard, "I don't know what to write about."
When the students went home they took their first assignment with them. It was an "All About Me Bag." They decorated the outside and put something of meaning to them inside. We shared these in class on the first Friday to get to know each other better. It was so fun to see kids connect and friendships form when students realized through the sharing they had things in common with their classmates. The parents were given homework too…a parent survey. At the end of the day I was exhausted, but felt like we accomplished a lot, the year was off to a great start and I couldn't wait for days 2 through 180.
If you don't want to spend the last precious days of your summer vacation making resources but still want to be ready for the first day of school I encourage you to grab my collection of printables to save time and get the year off to a great start. I have bundled them all together into one easy download for you, but each is also available individually.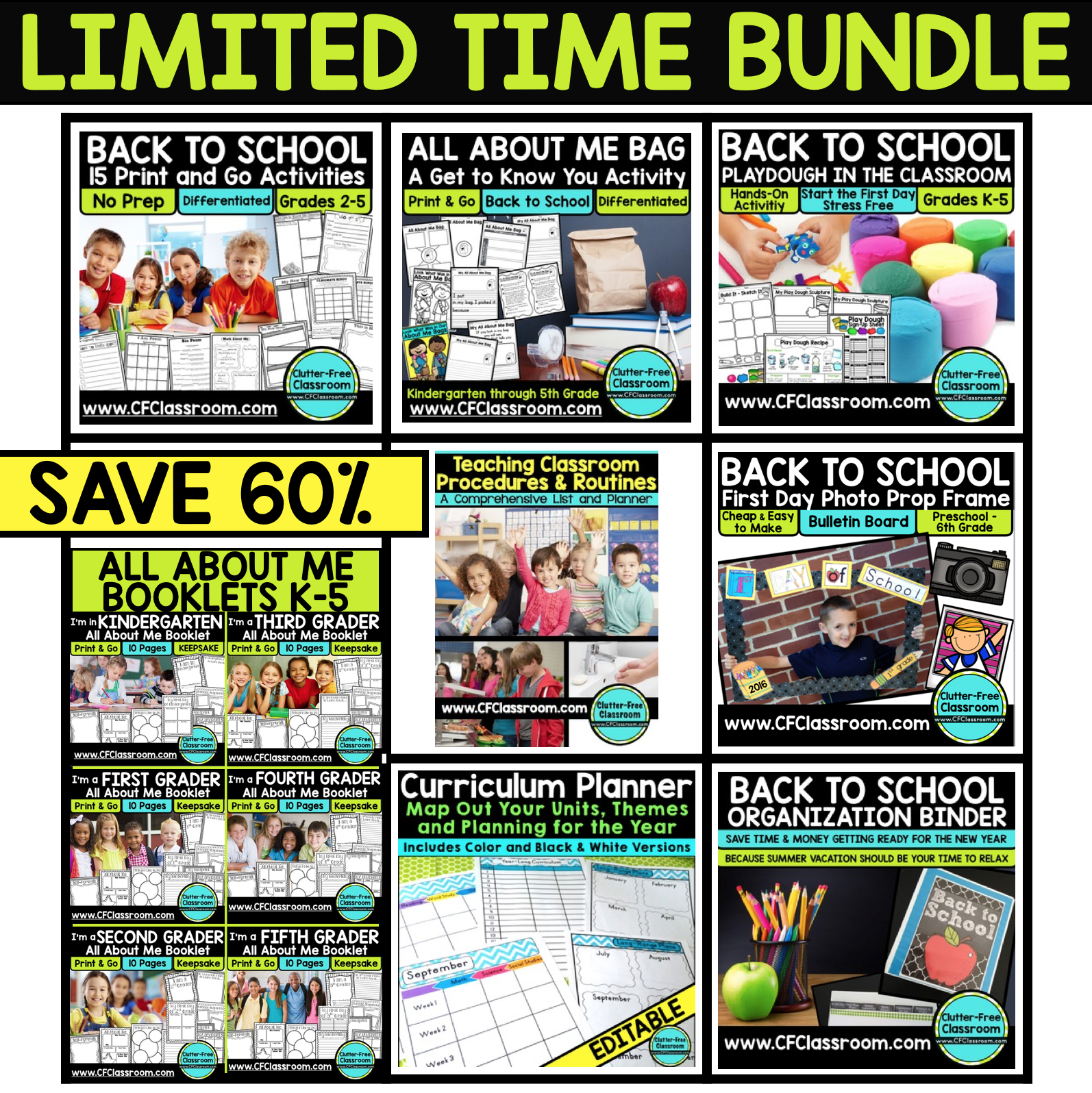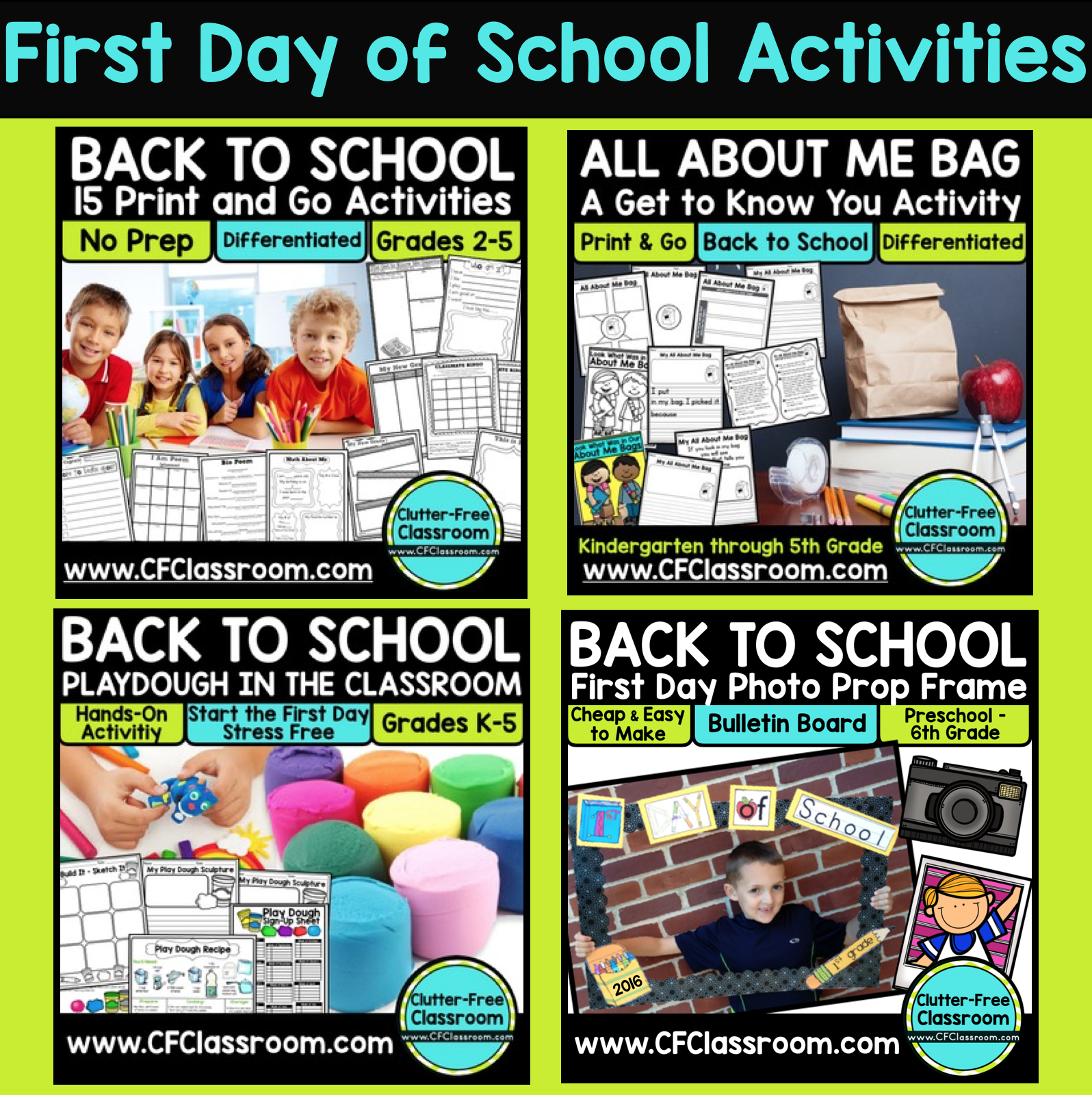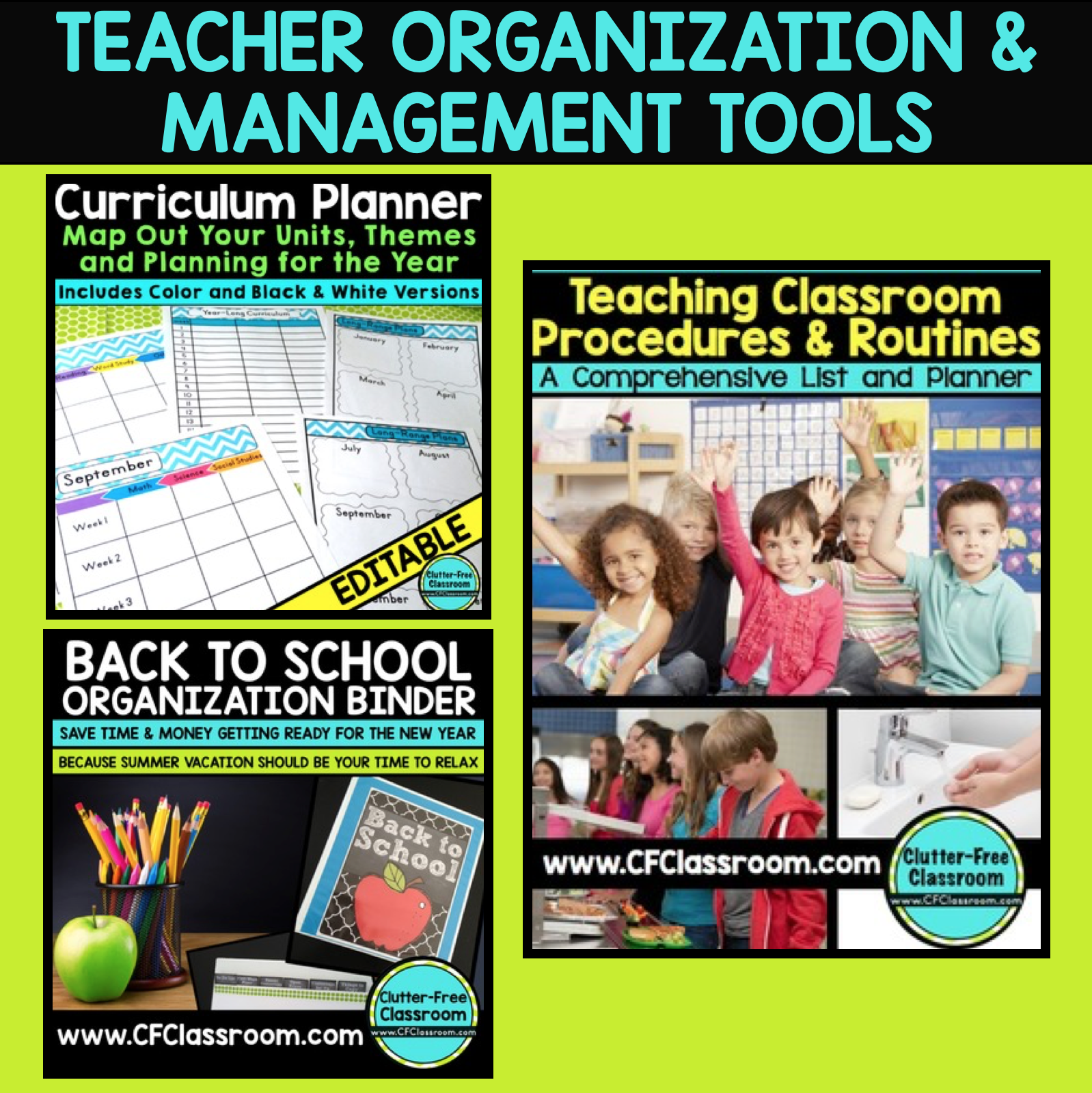 YOU MAY ALSO BE INTERESTED IN THESE RESOURCES:
SaveSaveSaveSave
Pick and click any or all of the options below.